Thank you for your service. Simple words that carry the gratitude of a nation. Let us help provide a fitting tribute that reflects your life and service to our country.
Many veterans and their families seem to be uninformed about the burial benefits they can expect to receive at the time of death. We often hear that families and veterans assume that Veterans Affairs (VA) will pay for all funeral and burial costs. The VA does offer many very helpful burial benefits to honorably discharged veterans, their spouses and dependents, however, this organization does not cover all funeral expenses. The truth is that there are many benefits veterans are entitled to and it is important that you know what services and merchandise is truly covered to make the best decision for you and your family.
Summary of Veteran's Benefits:
We need a copy of your discharge papers. The U.S. Department of Veterans Affairs urges veterans to advise their families of their burial wishes and where to find their discharge papers (DD214). On their website, :
You should advise your family of your wishes and where your discharge papers are kept. These papers are very important in establishing your eligibility.
At the time of need, your family would contact a funeral home who will assist them with making burial arrangements at the national cemetery. You may wish to make pre-need arrangements with a funeral home.
An honorably discharged veteran is eligible to be buried in one of Veterans Affairs' (as space allows) at no cost to the family. A is also provided by the government, as well as a U.S. flag, a , and military honors. Spouses and dependents may also be buried in a national cemetery along with the veteran or even before if they predecease the veteran. If you select this option, you just need to be aware that other family members such as parents, children, and siblings cannot be buried in the same national cemetery unless they too are a veteran. This is often one reason we see families select a private cemetery. The closest national cemetery to Cincinnati is in Dayton, OH (there is no national cemetery located in Cincinnati).
If a private cemetery is used, such as Spring Grove Cemetery or Oak Hill Cemetery, many burial benefits remain the same, other than the burial space: the headstone or marker, a U.S. flag, a Presidential Memorial Certificate, and military honors are provided at no cost to the family. Our funeral directors will arrange for these benefits. The burial space in a private cemetery is at the family's expense. Certain costs may also apply to setting the headstone or marker in place. No benefits are available to spouses or dependents buried in a private cemetery.
Please note that must be established on an individual basis and certain requirements or qualifications may apply.
Many veterans and their families don't realize that they are responsible for funeral expenses that are not covered by the VA, including a casket or urn, services of the funeral director, embalming, cremation, flowers, obituaries, police escort, and more. The VA makes it clear that these and other services provided by the funeral home or crematory are not covered by the government, other than the burial allowance for certain qualifying individuals referred to above.
While veterans' benefits can be a complicated issue to understand, especially during a time of grief, we are very knowledgeable about veterans' burial benefits, military honors, and the claim process. You can also plan with us in advance and make prearranged funeral plans to further assist your family if you are a veteran.
When a veteran dies, the surviving spouse may receive a Veterans Administration allowance as partial reimbursement for an eligible veteran's burial/cremation and funeral costs.
The benefit is higher if the death was service-related, offering up to $2,000. If the veteran is buried in a VA National Cemetery, a portion or all of the cost of moving the deceased may be reimbursed.
For non-service-related death, the Veterans Administration may provide a limited amount of compensation for burial and funeral expenses and/or transfer of the body, depending on eligibility. Please to find out if you are .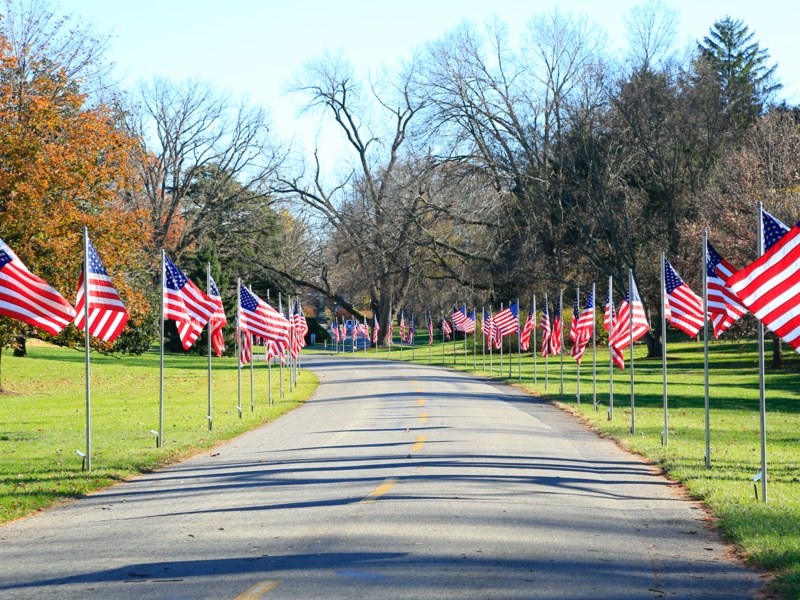 Besides a possible burial and plot allowance, all honorably discharged veterans are eligible for the following benefits:
Burial Flag
The VA will provide a United States flag, at no cost, to drape over the casket or to sit folded next to the urn of a deceased veteran. The flag may be folded and placed next to the casket if you elect to have a casket spray on the casket.
Only one flag is provided per veteran. In general, the next of kin receives the flag; however, the VA will furnish the flag to a friend upon request. Your funeral director will help coordinate these details for you.
Military Honors
Your funeral director will contact the honor guard of the veteran's military branch to request military honors. One burial flag will be presented to the next of kin. Let your funeral director know to whom the flag should be presented.
Military honors most often consist of folding the flag, playing taps, and presenting the flag. Most branches of service send out two uniformed military personnel.
Most honors are conducted at the gravesite but they can be done at the service inside a funeral home or church or at another location.
Marker or headstone
A deceased veteran, discharged under any condition except dishonorable, is entitled to a standard government headstone or marker. Upon request, at no cost, the VA will furnish the headstone or marker for the gravesite.
Flat markers are available in granite, marble, and bronze. Upright headstones are available in granite and marble. The style must be consistent with existing monuments or markers at the burial site.
Presidential Certificate
Your funeral director will send the request in for a Presidential Certificate to present to the next of kin or representative of the family. The timeframe for receiving this certificate can be months following the services.
As a veteran, can I be buried at Arlington National Cemetery?
Burials at Arlington National Cemetery are reserved for military retirees, Medal of Honor recipients, or members who die on active duty.
Below is a link to the Veterans Administration burial benefits website.