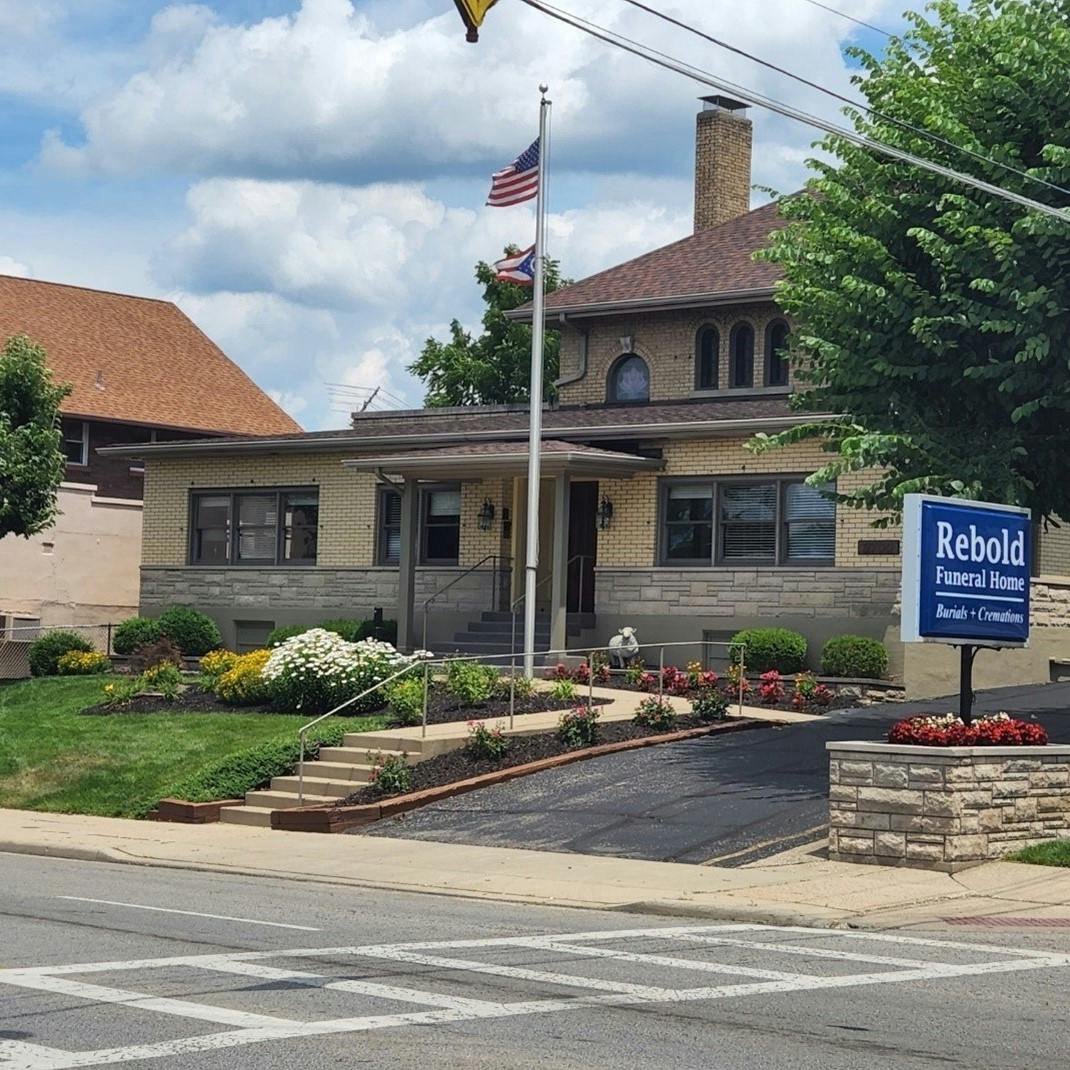 Spring Grove - Rebold (Cheviot)
3700 Glenmore Ave
Cincinnati, OH 45211
Overview
The Spring Grove family is the only full service, premier end-of-life provider for Cincinnati families.  At Spring Grove you will find choices to meet every family's traditions and circumstances, from elaborate celebrations to service more simple and convenient, all in one place.     Whether your family chooses a traditional service, a celebration of life, a memorial service or an informal family gathering, Spring Grove Funeral Homes can provide a service that meets your family's traditions and budget.  Spring Grove offers licensed Celebrants on staff, video tributes, webcasting and recording services, banquet facilities, event catering, and so much more.   We are proud to now provide these caring and professional services in Cheviot for Greater Cincinnati families.
Please feel free to stop in and see us or call us at 513-661-6200 if you have any questions about how we can best help your family.
History
The Rebold Family entered the funeral business in Cincinnati in 1882. It continued to operate through 4 generations of the family. The first location, at the corner of Harrison and Westwood, at the foot of the Western Hills Viaduct still stands today.
In 1921, the Cheviot location, which was built as a funeral home and family residence was completed. This location has been the mainstay of the family business.
Along with the name change, you will now be able to receive additional services and benefits that only Spring Grove Funeral Homes can provide.
Our large and diverse staff has decades of experience and is ready to help your family with anything you may need.
Features
Our Spring Grove – Rebold location, situated in the heart of Cheviot, provides the following amenities:
· Newly renovated and modern décor
· State-of-the-art technology, including livestreaming services
· Chapel with seating for 50+ for hosting visitations, funeral services, memorial services, receptions, and family gatherings
· Separate entrances in the front and back allow for large gatherings
· Coffee and beverage lounge and gathering areas encourage visiting and conversation
· Ample parking area that can accommodate 40+ cars
· Professional sound system, memorial tribute screens, electronic keyboard/piano, and mic system
· Two private meeting rooms for arrangements and preplanning
· Access to reception events and services at Spring Grove's 10,000-square-foot Event Center
· Grief to Peace and Men-in-Grief monthly support groups and sessions
· Annual Lantern Lighting, Holiday Remembrance Services, and other community events
Already Have Plans?
If your family already made arrangements with the previous owners at this location, all of your plans remain protected and will be honored. Additionally, Spring Grove has many services, products, and options that may not have been available when you originally selected your funeral plans. You can always rely on our licensed Family Service Advisors to review your options and help you make the choices that are best for your family. To review your plan, please call us at 513-522-6100.
Options for Burial
Families who preplan their funeral services at any Spring Grove location can access discounts on cemetery property at Spring Grove Cemetery and Oak Hill Cemetery (Tri County). If you already have arrangements in place, we can provide an assessment of your current arrangements at no cost to you.
Cremation Services
If your choice is cremation, our state-of-the-art crematory is located at our main Spring Grove Funeral Homes facility. This ensures your loved one never leaves the care of the trusted and experienced staff at Spring Grove. We also have a witnessing room for those who would like to say a final goodbye before the start of the cremation process.
Resources for Grief & Healing
Joining the Spring Grove family includes grief support and aftercare services. Families may participate in free monthly facilitated Grief to Peace sessions at the Spring Grove and Northwest locations. Families can also participate in memorial events such as the annual Lantern Lighting Ceremony, holiday remembrance services, activities honoring veterans, and more.
Address & Hours
Monday—Friday 8 a.m. to 5 p.m.
Saturdays & Sundays By appointment