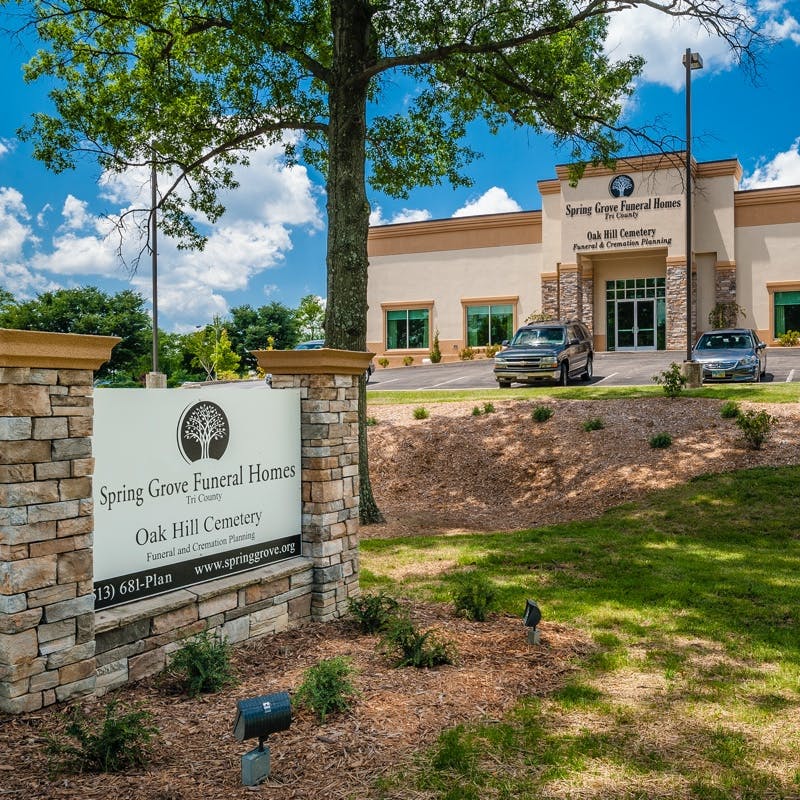 Spring Grove Funeral Home (Tri-County)
11285 Princeton Pike
Cincinnati, OH 45246
Overview
The Spring Grove family is the only full service, premier end-of-life provider for Cincinnati families. At Spring Grove you will find choices to meet every family's traditions and circumstances, from elaborate celebrations to service more simple and convenient, all in one place.
With many convenient locations throughout Cincinnati, Spring Grove Funeral Homes offer comprehensive, full-service funeral care. Whether your family chooses a traditional service, a celebration of life, a memorial service, or an informal family gathering, Spring Grove Funeral Homes can provide a service that meets your family's traditions and budget. Spring Grove offers licensed Celebrants on staff, video tributes, webcasting and recording services, banquet facilities, event catering, and so much more.

History
Spring Grove Funeral Home Tri County is located across the street from Oak Hill Cemetery. The funeral home opened for business in February 2014 to offer residents of northern Cincinnati the same complete array of end-of-life services (burial, memorialization, funeral, and cremation) that are offered at our main location in Spring Grove Village.
The roughly 13,000 square building was originally an Ethan Allen Furniture store. The building was purchased in September of 2013 and renovated over the following 6 months. The Tri County facility offers modern conveniences and a flexible floor plan which can be configured for a variety of different type services / gatherings.
Oak Hill Cemetery and Spring Grove Funeral Home Tri County are both subsidiaries of Spring Grove. Oak Hill's staff is supplied by Spring Grove Cemetery and Arboretum. Oak Hill Cemetery's business offices are also housed in the funeral home.
Features
Our Tri-County funeral home location, situated directly across the street from our Oak Hill Cemetery provides the following amenities:
Newly renovated and modern décor
Two chapels for visitations, funeral services, memorial services, receptions, and family gatherings. Seating ranges from 2 to 300.
Reception Center that can accommodate 100 guests or opened to the adjacent chapel to seat 200. Warming kitchen and ice maker.
Large open lounge area with a coffee bar.
Professional sound system, electronic keyboard/piano, and mic system. Portable tribute video screen and second video screen in the lobby.
Private family room.
State of the art crematory and remodeled cremation observation and viewing room located at our main Spring Grove Funeral Homes location. Cremation services are on-site so your loved one never leaves our care.
Licensed Celebrant Staff
Grief therapy dogs
Aftercare events, remembrance services, and on-going grief support
Large parking area to accommodate over 70 cars plus adjacent overflow parking areas.
Address & Hours
Monday - Friday
8:00 a.m. - 5:00 p.m.
Saturday & Sunday
8:00 a.m. - 4:00 p.m.