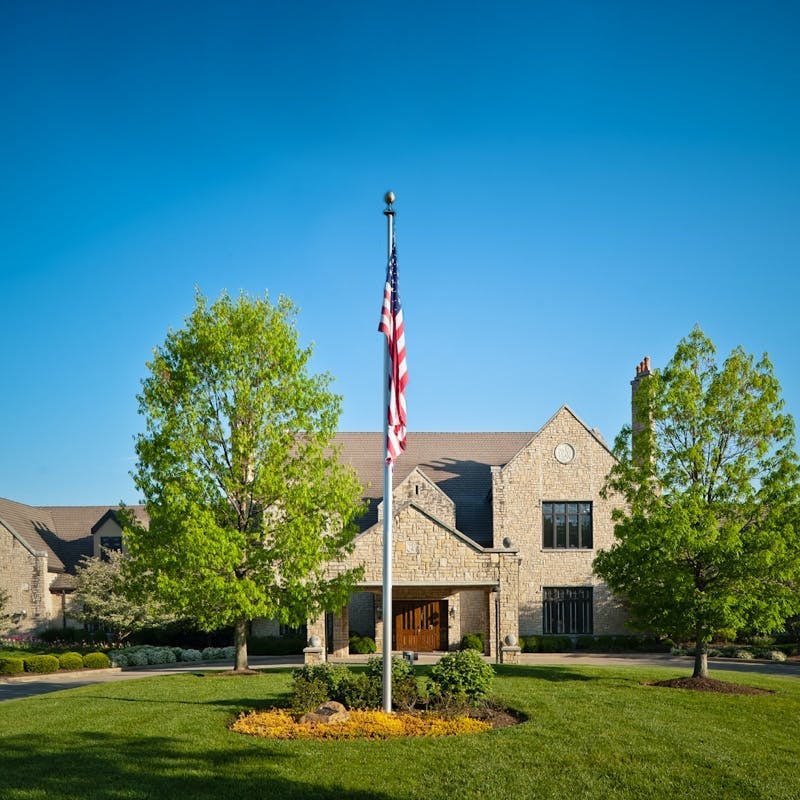 Spring Grove Funeral Home (Main)
4389 Spring Grove Avenue
Cincinnati, OH 45223
Overview
The Spring Grove family is the only full service, premier end-of-life provider for Cincinnati families. At Spring Grove you will find choices to meet every family's traditions and circumstances, from elaborate celebrations to service more simple and convenient, all in one place. With many convenient locations throughout Cincinnati, Spring Grove Funeral Homes offer comprehensive, full-service funeral care. Whether your family chooses a traditional service, a celebration of life, a memorial service, or an informal family gathering, Spring Grove Funeral Homes can provide a service that meets your family's traditions and budget. Spring Grove offers licensed Celebrants on staff, video tributes, webcasting and recording services, banquet facilities, event catering, and so much more.
History
Spring Grove Funeral Homes, located adjacent to the historic grounds of Spring Grove Cemetery and Arboretum in Cincinnati, Ohio opened for business in October 1999. The intent was to be able to offer Cincinnatians a complete array of end-of-life services – burial, memorialization, funeral, and cremation – in a single location.
Spring Grove Funeral Homes is a wholly-owned subsidiary of Spring Grove Cemetery. However, it is a separate corporation with its own Board of Directors, officers and staff. The funeral home has had various names over the years including; Jon Dietloff Funeral Centre and Gwen Mooney Funeral Home. An old, now defunct Ohio law required the legal name of the funeral home to include the name of the funeral director actually in charge. In December 2016 the funeral home was officially renamed Spring Grove Funeral Homes.
Spring Grove Funeral Homes have grown over the years and now has many convenient locations across Cincinnati to serve families. In addition, Spring Grove Funeral Homes owns and operates the Spring Grove Cremation Society and Thompson, Hall & Jordan Funeral Home.
The original building was under construction for 15 months in what was a former sod field at the cemetery. The design and development stage took 3-4 years of planning. The contractor was Deerfield Construction of Loveland, Ohio; the architect was J. Stuart Todd of Dallas, Texas; the interior by J.S.T Interiors of Dallas, Texas. When construction was concluded the funeral home included 45,000 square feet of office, operational, and service space.
In 2019 the funeral home undertook a major expansion and renovation of the main facility. 20,000 more square feet were added to accommodate the growth of the funeral operations. In addition to more arrangement rooms and a new state of the art preparation facility, a brand new reception center was added. The new meeting areas will accommodate larger after-funeral receptions for families to gather, reminisce, and share food and drink.
Features
Our main funeral home location, situated on the grounds of Spring Grove Cemetery and Arboretum offers: • Five full-service funeral homes conveniently located to serve you
Multiple remodeled rooms for visitations, funeral services, memorial services, receptions, and family gatherings. Seating ranges from 2 to 300.
A newly built 7,000 square-foot Event Center, featuring receptions, banquet facilities, and catering services
Webcasting and recording services for services in our main Blue Spruce Chapel
State of the art crematory and remodeled cremation observation and viewing room. Cremation services are on-site so your loved one never leaves our care.
Two seating areas with fireplaces and two public lounge areas.
Six arrangements and consultation rooms to meet with families.
Dedicated ritual dressing and washing room for families
Licensed Celebrant Staff
Grief therapy dogs
Aftercare events, remembrance services and on-going grief support
Large parking area to accommodate over 300 cars.
Address & Hours
Business Office Hours
Monday - Friday 8:00 a.m. - 5:00 p.m.
Saturday & Sunday 8:00 a.m. - 4:00 p.m.