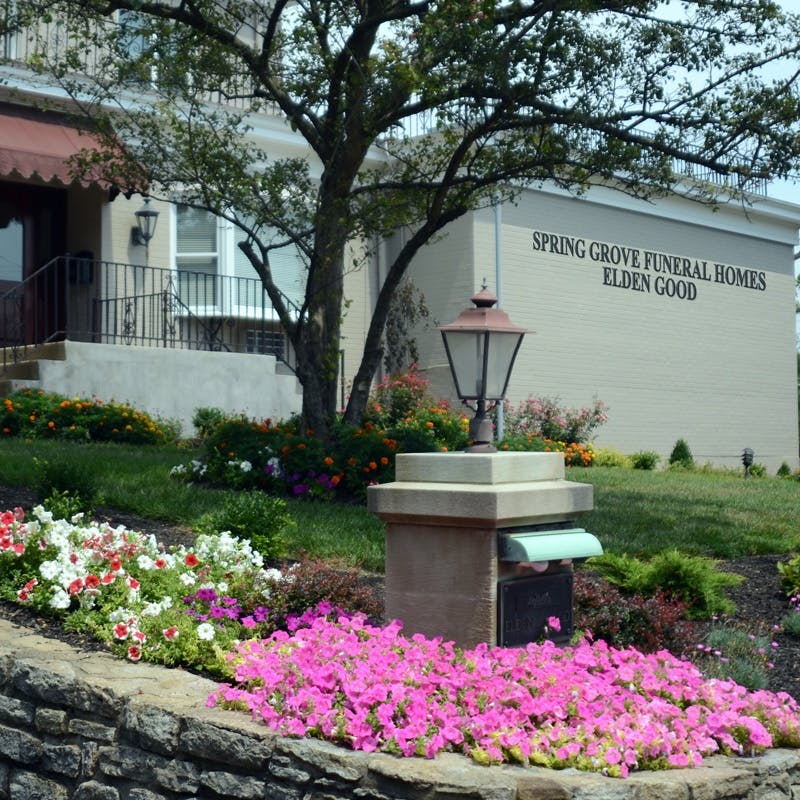 Spring Grove Funeral Home (Hyde Park)
2620 Erie Avenue
Cincinnati, OH 45208
Overview
The Spring Grove family is the only full service, premier end-of-life provider for Cincinnati families. At Spring Grove you will find choices to meet every family's traditions and circumstances, from elaborate celebrations to service more simple and convenient, all in one place. With many convenient locations throughout Cincinnati, Spring Grove Funeral Homes offer comprehensive, full-service funeral care. Whether your family chooses a traditional service, a celebration of life, a memorial service or an informal family gathering, Spring Grove Funeral Homes can provide a service that meets your family's traditions and budget. Spring Grove offers licensed Celebrants on staff, video tributes, webcasting and recording services, banquet facilities, event catering, and so much more.
History
Elden A. Good came to Cincinnati in 1933 from Lewisburg, OH, to pursue a career as a mortician. After working for several years at the Charles A. Smith and Sons Funeral Home, in Newport, KY and serving his apprenticeship, he attended the Cincinnati College of Embalming, graduating in 1940.
Before attending Mortuary School, Elden and Mary Elizabeth Scott were married on September 7, 1939. He served in the Army during WWII. Upon his return to Cincinnati, he worked at the W. D. Jacocks Funeral Home, in Walnut Hills, where he had served his apprenticeship. Elden and Elizabeth had two sons, William R. Good, who married Rebecca Southwick Good, and now own and operate the Southwick-Good Funeral Chapel in Columbus, OH, and Donald S. Good.
In 1952 Elden returned to the W. D. Jacocks Funeral Home, which was established in 1871, and became the sole proprietor of that firm. During the mid-1960's, Elden purchased property at the corner of Erie Ave. and Zumstein Ave., one block west of Hyde Park Square. In December of 1968, after renovation, he moved the Jacocks-Good Funeral Home to the current location. Donald's grandfather, Gwynne R. Scott, was the first person buried from the funeral home in 1968. The firm incorporated in 1978 under the name of Elden A. Good Funeral Home, Inc.
Donald and his wife Beverly Potts Good, who were married in 1975, joined Elden and Elizabeth in ownership of the business. Donald and Beverly acquired the business in the 1990's. Elden A. Good died May 19, 2007 and Elden's wife Mary Elizabeth died November 13, 2000.
Donald and Beverly both grew up in funeral service. As such, they are intimately aware of the responsibilities of the profession and the sacred trust that families place in them. They have been licensed funeral directors and embalmers since 1975. Although Donald originally received an accounting degree, he decided to attend the Cincinnati College of Mortuary Science and work in Cincinnati with his mother and father. Donald met his wife Beverly at the mortuary school. Beverly is from Russellville, Ohio in Brown County. The Goods are active in the community in many different ways. Don and Beverly have been a part of the Hyde Park Art Show for over 40 years, which is held the first Sunday in October. Between Beverly and Don they are active in many groups serving their community and they continue to serve families.
Features
Our Elden Good funeral home location, situated in Hyde Park for over XX years offers the following amenities:
Newly redecorated and updated interior. Beautiful historic home featuring a fireplace and two entrances. Conveniently located just south of Hyde Park square on the corner of Erie Avenue and Zumstein.
Large chapel for visitations, funeral services, memorial services, and family gatherings. Seating ranges from 2 to 100.
Receptions or after funeral gatherings may be held at any of our reception center locations, including our reception center locations at Spring Grove and Tri-County.
Sound system and portable tribute video screen. Electronic keyboard/piano available.
Private family room.
Dedicated consultation or arrangement room for meeting with families. • State of the art crematory and remodeled cremation observation and viewing room located at our main Spring Grove Funeral Homes location. Cremation services are on-site so your loved one never leaves our care.
Licensed Celebrant Staff
Grief therapy dogs
Aftercare events, remembrance services and on-going grief support
Ample parking in the back of the funeral home as well as adjacent overflow parking areas available.
Address & Hours
Monday - Friday
8:00 a.m. - 5:00 p.m.
Saturday & Sunday
8:00 a.m. - 4:00 p.m.