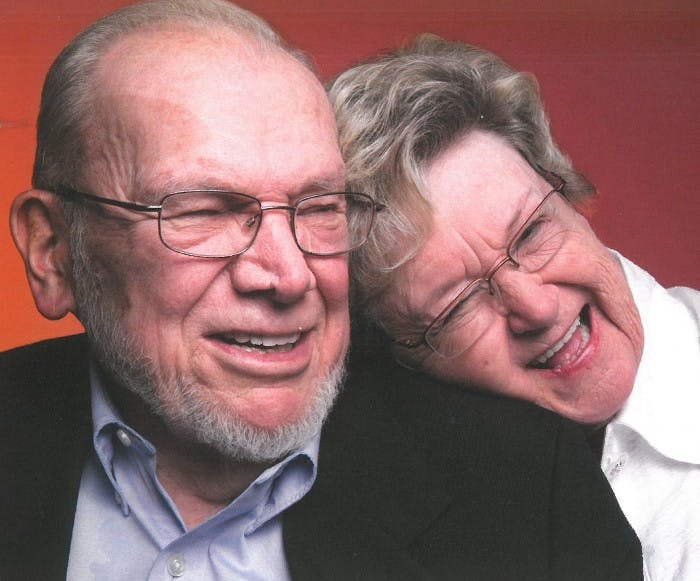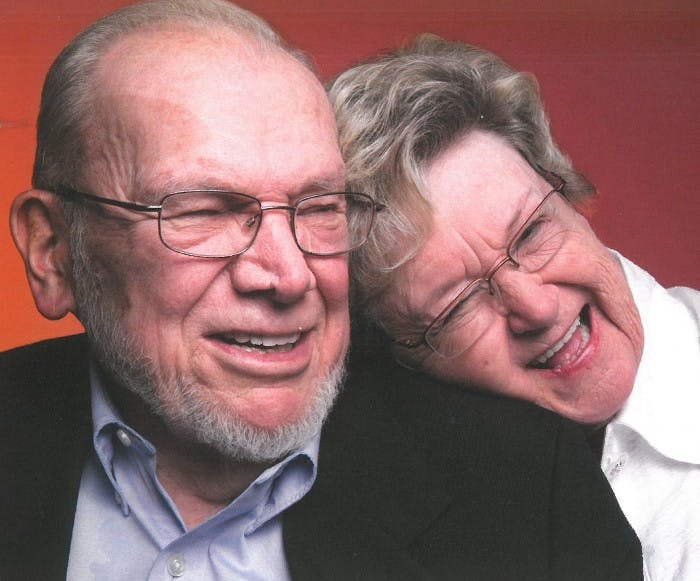 Obituary
Walter and Barbara Kautz have now been rejoined for eternity together.
At the age of 16, while students at Walnut Hills High School, Barb and Walt met in Mr. Leeds chemistry class and the rest is history. After graduating in 1942, Walter attended Denison and Barbara attended Ohio State Ag School. Once Walter was commissioned in the Navy, Barbara followed him around the country. While in Florida, they eloped and were married on February 10, 1945. Following the war, they returned to Cincinnati, making it their home for the next 75 years. They were blessed to have celebrated their 75th wedding anniversary in 2020.
Barbara O. Kautz, passed away March 14, 2020 at age 96. She was born January 21, 1924 in College Hill, Cincinnati, Ohio. She was predeceased by her parents Robert J. Ott and Ruth Kaiser Ott and her sisters Jeanne O. Saunders and Susan O. Faulkner.
Barbara served as the Director of the Cincinnati Garden Center until the birth of their first child. She was a creative soul. Often ahead of her time and never one to sit idle, she started her art career once the kids headed off to school full time. Name a medium, and she excelled. Her favorites were probably Acrylics, Batik, and Fabric Art. Many of her pieces can be seen around the city and Knox Church as well as up in her beloved Bay View, Michigan where the family has summered since the early 1900s.
Walter C. Kautz, passed away February 22, 2021 at age 96. He was born July 17, 1924 in Pleasant Ridge, Cincinnati, Ohio. He was predeceased by his wife Barbara and his parents Walter H. Kautz and Ethel Cordes Kautz. He is survived by his sister Betty Rack.
Walter finished his Business Degree at UC and then worked at Ohio National Life Insurance Co, becoming Executive Vice President until his retirement in 1989. He was the family historian and photographer. He was never seen without his camera around his neck. He also lovingly followed family members lives and shared them in the "weeklyBlabs" that he copied and mailed to anyone who wanted a subscription!
Their lives were filled with fun, friends, travel, laughter, and love while raising their 3 children. They are survived by Fredrica Bergquist (Tom), Elizabeth Chron (Perry), and Robert Kautz (Nancy). They are also survived by 7 grandchildren and 4 great grandchildren and many other nieces and nephews. They were predeceased by one grandson.
Barbara and Walter loved Cincinnati and dedicated much of their free time supporting it through their commitments at Knox Church, Cincinnati Tree Council, the Park Board, and Llanfair to name a few. They both enjoyed many recreational interests and hobbies including walking the dogs, tennis, swimming, Church Mice, University Club, Stumps Boat Club, Cincinnati Women's Art Club, and Cincinnati Women's Club.
When asked what was the most important thing to be in their obituary, Walter responded that it be noted that he and Barbara had the most wonderful life you could ask for and the best children ever. This story ends the way Barbara would always sign off, "Be of Good Cheer."
A celebration of Walter and Barbara lives will be held at a later date at the convenience of the family. Their final resting place will be at Knox Presbyterian Church Columbarium. Sympathy may be expressed at www.springgrove.org.
| Service | Location | Date | Time | Stream Link | Directions |
| --- | --- | --- | --- | --- | --- |
Add a Tribute