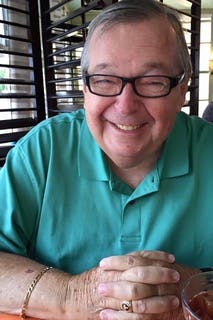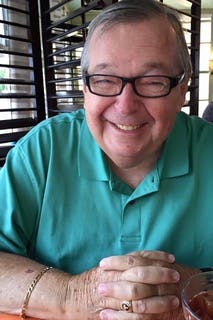 | Service | Location | Date | Time | Stream Link | Directions |
| --- | --- | --- | --- | --- | --- |
Obituary
Robert Allan Pierce, born August 6, 1939, in Chillicothe, Ohio, died peacefully on November 3, 2020, in Cincinnati, Ohio.
Bob Pierce was a ball of kindness in the shape of a man—his hallmark was his infectious smile and his ability to listen deeply. He spent his life in the service of others: in his early adulthood in the U.S. Army Reserve, as a counselor for young men at the Chillicothe YMCA and as president of the Junior Chamber of Commerce. He attended Ohio University studying economics, and the University of Cincinnati majoring in psychology.
Bob began his collective bargaining advocacy as a union representative for the Cincinnati Council of the AFL-CIO. He served as an occupational program consultant with the National Council on Alcoholism. For the AFL-CIO, he authored publications on alcoholism in the workplace. This service led him to establish the Employee Assistance Program at Dayton Power and Light in 1980, where he was a pioneer in the EAP field. This became his proudest service: a lifetime commitment to assist those with chemical dependency. He sponsored many through Al-Anon over the decades, saving lives and providing support to anyone in need. He was an anchor for them, and they were a family to him. He loved them all and touched countless lives within the 12-step community. A friend recently said, "Bob always saw the good in me."
Bob was proud of his 45-year membership as a Freemason, most recently as a member in good standing of the North Bend Lodge No 346. Bob called himself an amateur anthropologist and loved to travel, with adventures in Europe, Egypt, Central and South America. The inscription on his wedding band was Pilgrim Soul.
He is survived by his wife and life partner of 25 years, M.E. Steele-Pierce; brother Jerry Kerns of Chillicothe; daughters Melissa (John) Dearth and Cathy Imboden of Chillicothe; stepchildren Amy and Dennis Johns of Toledo and David and Christine Cornelius of Cincinnati; grandchildren Barrett, Grace, Caleb, Erin, Jessika, and Ashley; great-grandson Alex; and his feline best friend Merton.
Due to physical distancing required to stay healthy because of COVID, there will not be a celebration of Bob's life until it is safe to do so. Memorial gifts can be made in Bob's name to Al-Anon Family Groups at AFG Inc,1600 Corporate Landing Parkway, Virginia Beach VA 23454 or via al-anon.org
Add a Tribute