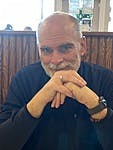 Obituary
Randall Brian Weeks Born Cincinnati, Ohio in 1960 Died at home in Cincinnati, Ohio September 27, 2020.Preceded in death by his parents Ray and Joann Weeks, his older brother Greg Weeks, and his younger sister Lori Weeks Chaffin. Survived by his wife Jane Pugliano, sister Deborah Pillow, brother Kevin Weeks, daughters Jennifer Simms and Megan Solice, stepdaughter Jessica Russel, Stepson Jon Perron. Randy was a grateful and loving grandfather to seven grandchildren and is survived by a large extended family, friends, and customers - too many to count.
Randy loved spending time with family. Long and late conversations with his grown children were one of his favorite pastimes. He could be childlike in his ways of being present with his grandchildren, so they always felt understood and worthy of his deep attention. Randy and his wife Jane spent twenty-three happy years living and working together, rarely separated.
Randy lived with colon cancer for five years. He would never say that he struggled or battled cancer. He lived with it through two surgeries, countless chemo rounds, and two drug studies. During that time he worked at his job, he welcomed grandchildren into being and celebrated the birthdays and other special days with family and friends.
Randy loved conversation. It may have been one of his favorite ways of showing up in the world. Just talking and listening. He did a lot of that in his lifetime. And he wrote songs and poetry and short stories with great skill and often with humor.
He started the web design company, NetCrafters in 1995 and worked at this craft until he died. He enjoyed the technology of his work, problem-solving, and maintaining good relationships with each and every customer and co-worker with whom he shared his days.
He spent precious time with his chosen family of friends, both lifelong and brand new. A Small Group and Women Writing for (a) Change were pivotal connections to the larger community Randy loved. A Small Group's 6 Conversations developed by Peter Block inspired Randy to create meaningful community in whatever situation he found himself. When the organization, Women Writing for (a) Change, began welcoming all genders into their writing circles, Randy started attending classes and did so until his death. These special communities sustained him before and during his cancer diagnosis and treatment. In his last months the community nurtured him with companionship and after the pandemic, with food for his body and written cards and letters that fed his soul.
Randy will be missed by everyone who knew him. He has left behind him a trail of friends and family that will hold close the years he spent loving, listening, singing, and laughing with them. A lover of technology, he leaves behind images, videos, songs, and websites to share with the world. The people who knew him will cherish the time spent with him and return again and again to his words in song and story. www.reclaimingordinary.com
Due to the physical distancing required to stay healthy during the COVID-19 pandemic, there will not be a gathering to honor Randy's memory until it is safe to do so in person. In lieu of flowers, the family requests that gifts be made in Randy's honor in support of the non-profit organization, Women Writing for (a) Change at www.womenwriting.org.
| Service | Location | Date | Time | Stream Link | Directions |
| --- | --- | --- | --- | --- | --- |
Add a Tribute