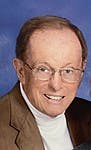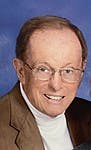 Obituary
Ralph McCrate rejoined his beloved wife Joyce on February 5, 2021. He was a man of faith, who believed in hard work and dedication to family and friends. Ralph was born in Lima, Ohio, on September 17, 1929 to Florence and Charles McCrate. A 12-pound newborn, he established himself from the start as a force with which to be reckoned.
Ralph spent his childhood in Columbus Grove, Ohio. There he learned the value of hard work, spending his summers as a teenager working at a greenhouse and on a railroad section gang. These experiences also taught him what he did not want to do for the rest of his life. So after graduation from high school, he attended the University of Cincinnati where he earned a bachelors degree in business administration.
While a student at UC, he met his life partner Joyce Taaffe. They married in 1952, and had three children, Mitchell, Teresa and Kevin. They were devoted to each other for sixty-seven years, until Joyces passing in 2019.
Soon after graduation he joined Valley Metal Works and Reilly Duerr Tank Company, in Reading, Ohio, where he worked for over forty years, retiring in 1994, as the owner of both businesses.
Ralph was a longtime and active member of St. Paul United Methodist Church in Madeira. His passions included travel, golf, the Bengals, and of course, his family.
He is survived by his children and their spouses, Ellen McCrate, William Wiegele and Jamie McCrate, as well as grandchildren Heather and Matthew Wiegele, Connor McCrate, Jordan McCrate (Marean), Dylan Niergarth (Daniel), and Kieran McCrate, and great-grandchild, Jacob Benjamin Niergarth. In addition to his parents he was preceeded in death by his brother, Charles Hobart McCrate.
Services will be held at Spring Grove Funeral Home. Due to COVID-19 we are not allowing guests to attend this service in person however you are invited to participate from the comforts of your own home to watch the services with our live streaming. Click here https://youtu.be/_gPzv9D9Sgc.
Should you want to make a memorial donation please consider The American Parkinson Disease Association, PO BOX 61420, Staten Island, NY 20306.
| Service | Location | Date | Time | Stream Link | Directions |
| --- | --- | --- | --- | --- | --- |
Add a Tribute