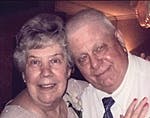 Obituary
Mary Ann Wuestefeld Gohs lived a full and abundant life in Christ. She passed on September 11, 2020, a few days after celebrating her 90th Birthday on September 8. Mary Ann was diagnosed with Dementia/Alzheimer's and passed from complications at her daughter's home surrounded by loved ones.
Mary Ann was born to the late Elmer and Anna Wuestefeld of St. Bernard, Ohio. She attended St. Clement School for elementary, and Our Lady of Angels High School. After graduation, she worked as a secretary for Proctor and Gamble and enjoyed traveling with her friends. During this time in her life, Mary Ann met Harold "Buzz" Gohs. They were married at St. Clement Church on June 28, 1958 and they moved to Northside where they raised their family. Mary Ann and Buzz were blessed with 4 children. They lived in love and happiness in the same house for over 50 years. Mary Ann was a stay at home mom, member of PTO, and devout parishioner of St. Boniface Catholic Church, as well as a volunteer Brownie leader. She was quite the cook and baker; making every meal from scratch for her husband and kids, including her famous Thanksgiving dinner (that her entire family still attempts to replicate in their own homes!) When her children grew up, Mary Ann went back into the workforce for Shillito's where her favorite perk was working "as-is" as she had first dibs on all the best deals. Even as her family grew, she remained an integral part of all family gatherings. From hosting Easter brunch (with the now infamous eggs decorating the fan) to being the token fans at every grandchild's sporting event (rain or shine), Mary Ann was the light of her family's lives. In her spare time, Mary Ann enjoyed bird watching, gardening, completing crossword puzzles, and hand-stitching Christmas stockings. Mary Ann loved to be entertained, whether it was watching Xavier play basketball or cheering on her favorite dance team or color guard.
Mary Ann is survived by her three children Ken (Clindy) Gohs, Janet (Rob) Hendrian, and Carol Colyer. She is also survived by her grandchildren Jenny (Matt) Meyer, Katie (Thomas) LePage, Jonny Hendrian, Kim (Jim) Manley, Becky (Mason) Addison, Beth (Trey) Hightower, Kenny Jr. (fiancee Saidah Gaiter) Gohs, and Mitch Colyer. She is also survived by 8 great-grandchildren, with another due in February 2021. Mary Ann is also survived by her brother Jerry (Mary Jo) Wuestefeld, her nephews, cousins, and friends.
Mary Ann was preceded in death by her beloved husband Harold (Buzz) Gohs, her parents, Elmer and Anna Wuestefeld, as well as her brother, Elmer Wuestefeld. She was also preceded in death by her infant son, Jeffrey Gohs.
The family would like to acknowledge and thank the staff of Hospice of Cincinnati for their care and support in Mary Ann's final days.
A visitation will be held from 5:00 to 7:00 PM Thursday, September 17, 2020 at Spring Grove Cemetery. A Mass of Christian Burial will be held at 10:00 AM, Friday, September 18, 2020, at St. Boniface Catholic Church.
In lieu of flowers, memorials can be directed to St. Boniface Catholic Church, Girl Scouts of America, or Hospice of Cincinnati. Online condolences may be given at www.springgrove.org
| Service | Location | Date | Time | Stream Link | Directions |
| --- | --- | --- | --- | --- | --- |
| Visitation | Spring Grove Funeral Homes | 2020-09-17 | 5:00 pm-7:00 pm | | |
Add a Tribute