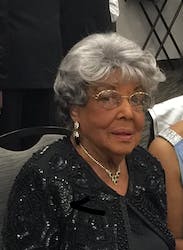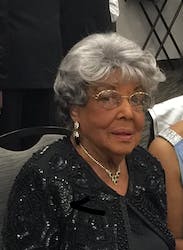 Obituary
Marjorie Parham was born February 12, 1918, in Batavia, Ohio (Clermont County), and briefly attended Wilberforce College, a historically black institution of higher learning. She then took some classes at the University of Cincinnati. She hoped to earn a business degree, but teachers tried to move her into education or nursing, lines of work in which the young Marjorie had no interest.
She dropped out and at 19 married William Spillers. They had a son, William. In 1946, she got a job as a clerk with the U.S. Veterans Administration in Cincinnati. Then she met and married Gerald Porter in 1954.
In 1955, Porter opened the Cincinnati Herald, and in 1961 opened the Dayton Tribune which her son, William, was responsible for the day-to-day operations.
In 1963, her husband, Gerald Porter, died in an automobile accident and Marjorie made the decision to carry on her husband's legacy and continued to publish the Cincinnati Herald along with her son, William. She later married long-time family friend and advisor, Hartwell Parham, who preceded her in death in 1981.
Marjorie Parham, an accidental publisher who took control of the Cincinnati Herald after her husband's death and for more than 30 years made the newspaper a guide star for the region's Black residents as well as the city, passed away peacefully in her sleep April 14, 2021 at the young age of 103.
As publisher of the Herald, Parham steered the weekly publication through the often bumpy waters of the newspaper industry to provide information and insight to readers who didn't see their concerns in mainstream outlets. She traveled extensively for business and saw herself as an ambassador for Cincinnati.
She became the second Black person to serve as a trustee of the University of Cincinnati. In 1993, the National Association of Black Journalists presented her its Trailblazer Award. She is in the Ohio Women's Hall of Fame and the Ohio Civil Rights Hall of Fame. The Cincinnati USA Regional Chamber named her a Great Living Cincinnatian in 2007. In 2015, when the Cincinnati Herald marked its 60th year of publication, the city honored her with a resolution.
In 1993 Parham retired from day-to-day operations, holding the title of publisher emerita.
In retirement, Parham filled her life with civic tasks, chairing the board of the National Afro-American Museum and Cultural Center in Wilberforce, Ohio, and taking leadership roles with the Urban League, the American Red Cross and scout organizations. Honors and appreciations showered upon her, among them the key to the city of Cincinnati.
By 1996, the Herald was in good financial health and had built circulation to 25,000 weekly readers and Marjorie and her son sold the newspaper to Sesh Communications which kept Parham's title at the top of the masthead.
Marjorie was also preceded in death by her son William Spillers.
She leaves to carry on her legacy: her granddaughter, Dr. Rhonda Washington, grandson, Edmund Spillers (LaLeatha) of Grand Rapids, MI; niece Sandra Samson of Dayton, OH; six great-grandsons and one great-granddaughter.
| Service | Location | Date | Time | Stream Link | Directions |
| --- | --- | --- | --- | --- | --- |
| Memorial Visitation | Spring Grove Funeral Homes | April 23, 2021 | 10:00 am - 12:00 pm | | Directions |
| Memorial Service | Spring Grove Funerl Homes | April 23, 2021 | 12:00 pm - 1:00 pm | Live Stream Link | Directions |
Add a Tribute