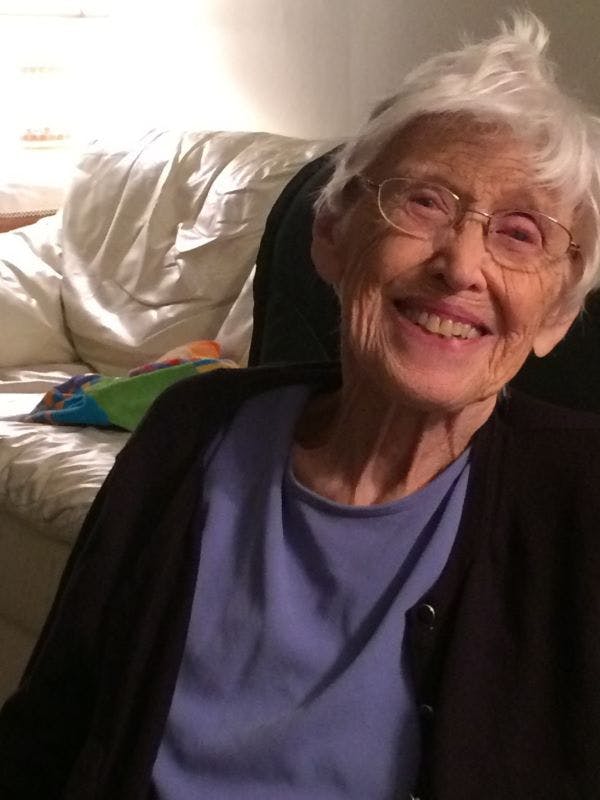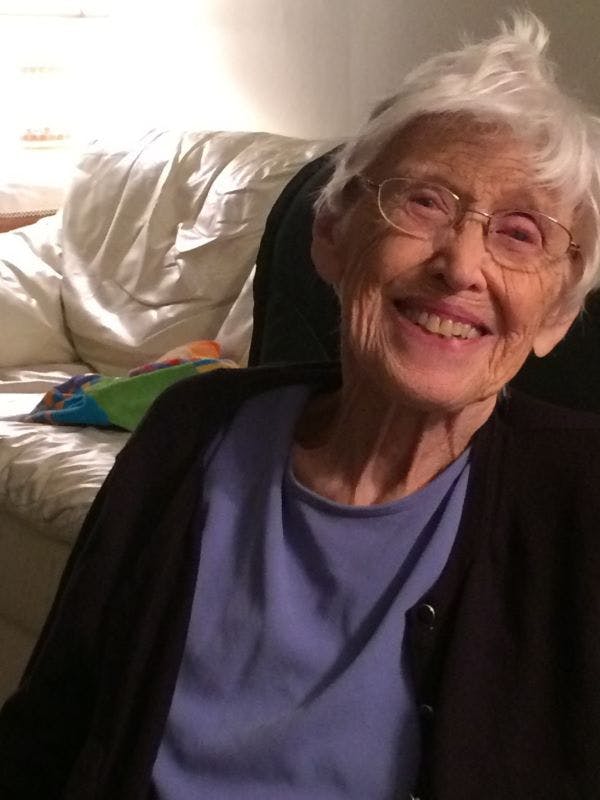 | Service | Location | Date | Time | Directions |
| --- | --- | --- | --- | --- |
Obituary
Marion Hambrecht, nee Garlock, passed away on September 16, 2021, at the age of 96 of natural causes at Hospice of Cincinnati.
She was born September 8, 1925, at her grandparents' house in Mohawk, New York. She grew up in Syracuse, NY, attended Onondaga Valley Academy High School and earned a bachelor's degree in Nutrition from Syracuse University graduating in 1945.
Marion was a "Rosie the Riveter," engaged in wartime production during World War II. She was proud to be part of the greatest generation, and proud too of her brothers, Jack and Bob. As bombardier and pilot respectively, they flew combat missions in B-24 bombers during WW II; Bob with the 15th AAF in North Africa, and Europe, and Jack with the 5th AAF in the Pacific. Both returned home safely.
Following college, Marion wed George Hambrecht. She supported her husband through music school and helped him launch his professional career as a concert musician. They settled in Cincinnati with their four children, when George became principal flutist in the Cincinnati Symphony Orchestra. Marion herself was an accomplished church organist as a young woman.
Ever the independent, she carved a path as a single mother at a time when it was most difficult to do so. In the wake of a separation and divorce Marion commenced her career at the University of Cincinnati to support her family. She spent more than two decades at U. C. making contributions to many departments. Her favorite roll was that of administrative assistant to the Dean of the College of Education. Here she was frequently thanked for the significant impacts she made on the lives and academic careers of countless students, especially those studying from abroad, as she assisted them to navigate the complexity and bureaucracy of a large institution.
Though a single parent, she found ways to support all of her children in their pursuit of higher education. After retiring from the University of Cincinnati, Marion moved to Philadelphia to live with her eldest son Larry and his wife Donna Perone, and supported them during their graduate studies. Larry earned his law degree and Donna earned her PhD in Psychology.
Her next adventure was to return to her childhood roots and spend the next 20 years in Skaneateles, New York. She lived her remaining years with family in Cincinnati.
Marion was intensely curious and was attentive to the news and current events. She enjoyed reading the New York Times, National Geographic, and Time magazine among others. She loved to engage in conversation and her favorite topic was to speak of her children. She never met a stranger and was welcoming to all.
Her love of music transcended the ages from the classics to contemporary. She would sing, dance, and keep time with all from Beethoven to the Beatles, Pavarotti, Lawrence Welk, and Willie Nelson.
Other joys included traveling and visiting historic sites. She enjoyed various cuisines and was a marvelous cook in her own right. She was a staunch supporter of the arts enjoying the symphony, ballet, and museums of all kinds.
Above all, she enjoyed time with, and reliving memories, of family, friends, and pets. She would recall Sunday dinners at home while growing up, summers at the cabin on Otter Lake and visiting Old Forge in the Adirondacks. She was quick to share memories of her siblings, and also her pets, most notably her favorite feline companion of 23 ½ years.
Marion is the last of her generation in her family. She was predeceased by her former husband, George R. Hambrecht, her father, John H. Garlock, her mother, Clara Day Garlock, her brothers and sisters-in-law, Jack C. Garlock (Rusty), Robert H. Garlock (Pat), her sister and brother-in-law, Bernice L. Klosowski (Frank) and also her daughter-in-law Donna Perone.
Marion is survived by her children; Larry Hambrecht of Philadelphia, PA, Robert Hambrecht (Donna Cheng) of NY, NY, John Hambrecht of Des Moines, IA, Jane Edgar (Rob) of Cincinnati, OH; grandsons Jeff Hambrecht of Phoenix, AZ and Sam Hambrecht of Burbank, CA, great grandchildren Breklin and Axel Hambrecht of Phoenix, AZ and many nephews and nieces and their children.
Funeral Service will be held in Cincinnati on Saturday, October 9, 2021, at 2:00 pm at Knox Presbyterian Church, 3400 Michigan Ave, Cincinnati, OH 45208.
Funeral Service will also be held on Friday, October 15, 2021, at 11:00 am at First Presbyterian Church, 97 East Genesee Street, Skaneateles, NY 13252. Burial service will be held Saturday, October 16, 2021, at Noon at Highland Rural Cemetery in Jordanville, NY.
In lieu of flowers, the family requests donations be made to:
Ohio Valley Alley Cats, 5619 Orlando Pl., Cincinnati, OH 45227,
Recue Mission P.O. Box 11122, Syracuse, NY 13218-9903, or
WCNY The Public Broadcast Council of Central NY, Inc. P.O. Box 2400 Syracuse, NY 13220-2400
Family and friends are welcome to come celebrate Marion's life and legacy.
Add a Tribute