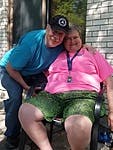 Obituary
Kathy Lemons, 61, passed away on September 9th 2020. Loving mother of Michael, Brian, and Bradley, Cherished Grandmother of Josephine, Katie, Selena, Brandon, Justin, Brian Jr, Cruz, Gabe, Bobbie, Michael Jr., Dear Sister of Randy, Sandy, Lisa, Ricky. She was preceded in death by Barbara, Chuck, Randy, Sandy, Victoria, Brian, Terrance.
Kathy was Strong, Independent, and Jovial Strong because of her ability to always be there when we needed her, to be able to survive in prison for 8 years, and how she was able to live these past 35 years with this mental health issue, and still manage to make sure she was in our lives and our families lives, even after all of the deaths that occurred over the course of Her lifetime, First her brother, then her mother and father shortly after, then her sister, her niece Victoria followed by her son. All dying at early ages, still managed to cope with it and maintain her sanity. Independent- For always making sure that we were taken care of and had a place to live if we needed it. Without the help of someone else. And Jovial- because every time we had a family get together she was sociable and funny and always had a good sense of humor.
She loved spending time with family, crocheting, going to the casino, and watching horror movies. Her favorite color was Purple Her favorite flower was the DIANTHUS CARYOPHYLLUS or (Carnation). She believed in A God, and life after death, to be able to reunite with her family members that passed away
Kathy leaves behind her 3 son's, Michael, Brian, and Bradley and her 9 grandchildren, Justin, Cruz, Michael Jr., Josephine, Brian _Jr., Bobbie, Gabe, and Selena as well as other relatives and friends. Her family, and her role as mother, grandmother and aunt was the most important thing to her. This is where she drew her strength and left her legacy. Being with her family was what she enjoyed most of all. Her life had many obstacles, and she struggled for 35 years with a devastating mental illness. Yet through it all, her love and caring for her family remained her focus, and in so many, many ways, she was able to show that love to us. This perseverance through adversity is a powerful lesson for us.
Kathy would leave us this message....To keep our priorities straight and to also keep that which is most important in focus. To love and care for our family. To always let them know in all the ways we can show them, that we love them. To not let adversities, setbacks or any other kind of distraction, whether in the world or in our lives, keep us from this most important aspect of life. And to also not worry about her because she is in a better place now, were hopefully she will see her Mom Barb, her Dad Chuck, Her Brother Randy, her Sister Sandy, her Son Brian, Niece Victoria and her Niece's Son Terrance again. She will be strong missed by her family Lemons, Williams, Renderos, and friends.
Public visitation will be held at Spring Grove Cemetery Cedar's of Lebanon Chapel (4521 Spring Grove Ave Cincinnati, OH 45232) on Tuesday September 29th at 1:00 pm with Funeral service to follow at 2:00 pm. Burial at Spring Grove Cemetery.
| Service | Location | Date | Time | Stream Link | Directions |
| --- | --- | --- | --- | --- | --- |
| Burial | Spring Grove Cemetery | 2020-09-29 | | | |
Add a Tribute