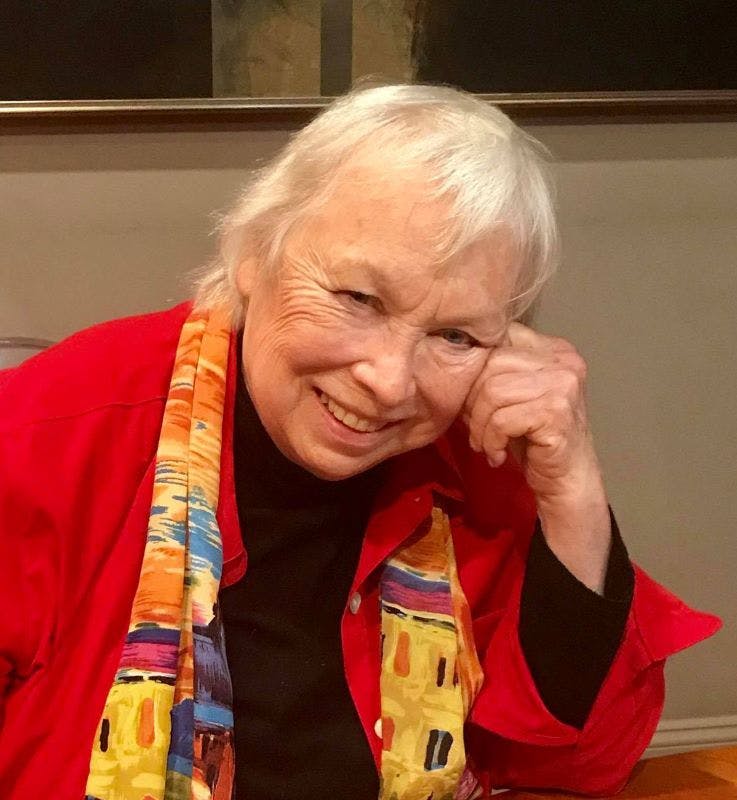 | Service | Location | Date | Time | Directions |
| --- | --- | --- | --- | --- |
Obituary
Karen Stith Nulf's spirit departed this life on May 12, 2023, leaving behind her fan club of family and friends who will love her forever. Karen's vision, wit, energy and candor inspired her graphic design students, colleagues and admirers of her prodigious and varied creative work - spanning filmmaking and publication design, photography and oil painting, and the near-magical cooking of enormous quantities of hot and sour soup and Cincinnati chili. Her intense blue gaze could be lacerating, sparkling or bone-deep warming. She loved black Labradors, cool jazz, shrimp pad Thai, mystery novels, ironic twists, Kurosawa films, jigsaw puzzles, world travel and elegant typography. Though highly articulate, Karen will be remembered for devising her own language that included expressive sounds and gestures that punctuated every conversation.
She will be missed by her daughter Adele Nulf Durfee and son-in-law Bryan Durfee; granddaughter Alicia Boggs; sister Anita and brother-in-law Ed Marks; nieces Alison and Amy Marks; and a vast network of people whose destinies were shaped by Karen's touch.
Karen would want you to know that she was born and raised in Cincinnati, Ohio by her late father Joseph E. Stith and mother Adelaide (Reuter) Stith. She retired as Professor Emerita from the College of Fine Arts at Ohio University, where she taught graphic design, mentored, researched and served between 1967 and 2007. Karen held a Bachelor of Science degree in graphic design from the University of Cincinnati; a Master of Arts degree in painting from Michigan State University; and a Master of Arts degree in film and video from the University of Iowa.
Gifts in Karen's memory may be made to the Karen S. Nulf Scholarship Fund at the School of Art & Design at Ohio University, to the Athens Photographic Project, or to the Dairy Barn Art Center in Athens, Ohio.
Karen's ashes will be interred at the Spring Grove Cemetery in Cincinnati, Ohio. A private celebration of life will be held for family and friends in Athens. www.springgrove.org
Add a Tribute