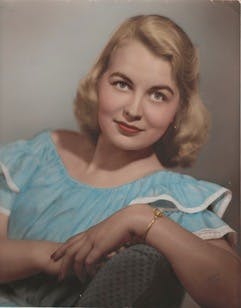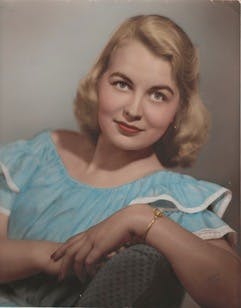 | Service | Location | Date | Time | Directions |
| --- | --- | --- | --- | --- |
Obituary
Jean Ruth Nichols of Columbus, Georgia, passed away on Sunday, March 12, 2023, at the age of 92 in West Chester, Ohio.
Jean Vivian Ruth was born to Donald V. Ruth and Clara H. Ruth on October 7, 1930, in Norfolk, Virginia, and moved to Elmira, New York, shortly after. Jean grew up in Elmira, where she graduated from Southside High with honors in 1947. She lived in Rochester, New York, until 1952 where she worked as an executive secretary until her marriage Alexander Chalmus Nichols in 1954.
She and Alex moved to Chapel Hill, North Carolina, at that time. Jean worked for the University Library, as Director of Russian Heavy Equipment Research, until she moved to Philadelphia, Pennsylvania, when her husband, Alex, who started school at the Pennsylvania School of Optometry. Jean followed her husband to Fort Dix, New Jersey, where he entered the military in 1961. She spent the next 20 years being a dedicated military wife: moving to Tampa, Florida, Augsburg, Germany, and Augusta, Georgia, then eventually settling in Columbus, Georgia, to raise a family. While raising her children - Alicia Ruth Nichols, Alexander Christopher Nichols and Donald Jason Nichols - she spent her time as a Realtor, and a volunteer at the Butterfly Center of Callaway Gardens and The Columbus Museum in Columbus, Georgia. She spent several years running Winn Optical managing a buying group with Columbus Eye Associates.
Jean was an avid bridge player earning her masterpoint in duplicate bridge and playing social bridge with the Green Island Ladies Bridge Club. She was a member of the Evangelical Lutheran Church in Augusta, Georgia.
Jean is survived by her husband of 68 years, Alexander Chalmus Nichols of Mason, Ohio; her daughter, Alicia Ruth Nichols Weathers and spouse, Charles Clayton Weathers of Saluda, South Carolina; her son, Alexander Christopher Nichols and spouse, Angela Jobe Nichols of Mason, Ohio; her son, Donald Jason Nichols of Baltimore, Maryland; and her granddaughter, Ashton Leigh Nichols of Dallas, Texas. Jean was a loving mother and wife and will be missed by all.
In lieu of flowers, donations can be made to https://www.hospiceofdayton.org/donations or mail checks payable to Ohio's Hospice Foundation, 7575 Paragon Road, Dayton, OH, 45459.
A private family service will be held at the Royal Redeemer Lutheran Church of Liberty Township, Ohio. Jean will be interned at the Pine View Cemetery in Rocky Mount, North Carolina. www.springgrove.org
Additional Links
Add a Tribute