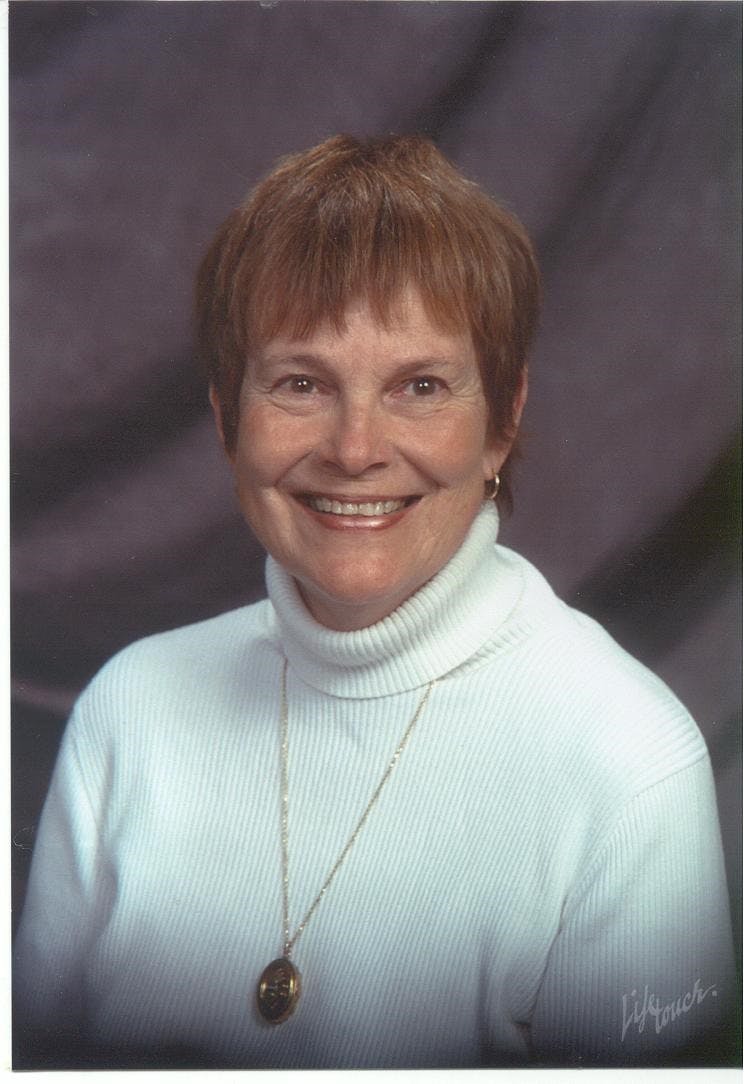 Obituary
Janice Virginia Lubin (nee Windisch), age 88, died on Thursday evening, September 10, at the Hospice of Cincinnati facility in Blue Ash, Cincinnati, OH after a long battle with insidious Parkinson's disease. Janice was very spirited and stubbornly determined exhibiting true grit—great courage—in confronting her various calamities and battles with adversity, especially the Parkinson's disease. But now the strife is over, and the victory won! Hallelujah! She gave true meaning to the expression, Solvitur Ambulando. Through all of it, though, she was cheerful, supportive and kind to others. She was possessed of a beautiful engaging smile and loved to make others smile too. Charming she was armed with an incisive wit, truthful—politely frank, a very genteel Southern lady…a real sweet Georgia Peach.
Janice was born Friday, the 29th of January 1932 in Birmingham, AL to Edward Bertram (of Ocala, FL) and Marion Stella Windisch (nee Rutherford, of Minneapolis, MN). The family moved soon after to Atlanta where she was raised with her older brother, Bert, Jr. who died just shy of his 14th birthday when Janice was only 8. Janice attended Bass High School where she enjoyed playing basketball and, because of her good moves, answered to her affectionate nickname, T-Model.
Janice is survived by Gary, her husband and best friend of 47 years. She was his little cougar. Grrr. Having the same birthday, they would jest that, since she was born about 1 am, and he about 6 am, she was the older and wiser. Indeed. Janice declared that they had a good run, and they did. Also surviving are her daughters, Marilyn (Tom), Janice (Chris), Pamela and Robin (Mike). Sadly, her one and only dear son Alan (Pamela) tragically died before her. They presented her with 5 grandsons, 7 granddaughters, 9 great grandsons and 4 great granddaughters. Janice and Gary were foster parents to Timmy, Brenda, who preceded her in death, Scott, and Rebecca Anne.
Janice and Gary enjoyed traveling together to exotic places. Her favorite trips were to Denali and Alaska's Inner Passage, safari in Africa seeing close up the "Big 5" and whale watching in the Sea of Cortez personally engaging mama and baby gray whales to scratch their prodigious bodies while exchanging intimate glances, eye to eye, from only 2 feet away! They say the eye is a window to the soul. She liked bird watching particularly in her backyard "nature park" to see barred and great horned owls steal goldfish and bullfrogs from the pond and various hawks stake out the bird feeders; abundant chipmunks as well as rabbits, raccoons, deer and an occasional coyote. She liked to sew and had an artistic flare expressed by decorating birdhouses and, of late, by painting in acrylic. She was a voracious reader particularly enjoying English murder mysteries—a real Sherlock Holmes aficionado.
Janice recently said, in her Southern drawl, "I have so many friends, I don't know what to do, hardly." Many of her friends were members of the Episcopal Church of the Redeemer in Hyde Park, Cincinnati. She says, "Hello, all y'all!" Janice was a lifelong member of the Episcopal Church being baptized April 4, 1938 at The Episcopal Church of the Epiphany, Atlanta, GA and confirmed there January 7, 1945. Her success at motherhood is exampled by the fact that her daughters were also her friends. Janice thanks all of her family, friends, including cherished neighbors, for standing by her and supporting her along the way. She lived as if life was really about relationships and the quality of life about the quality of those relationships. She believed that life should, all the time, be as Charles Dickens described in The Christmas Carol: "…as a good time; a kind, forgiving, charitable, pleasant time...when men and women…open their shut-up hearts freely, and…think of people below them as if they really were fellow-passengers to the grave..."
Janice exhibited a passion for social justice which is exampled by her various volunteer work, especially and noteworthy, helping to found the Interfaith Hospitality Network of Greater Cincinnati, a shelter for homeless families. She served as a volunteer and on the board for a time, being recognized with their highest award for meritorious service. Janice was a spiritual woman, devoted and loyal to the Episcopal Church of the Redeemer since moving to Cincinnati in 1979. A celebration of Janice's life will be held there at a later date. Memorial donations may be made to: Mission Endowment Trust/Endowment Funds for Outreach or for Music c/o Episcopal Church of the Redeemer, 3244 Erie Ave, 45208 (513-321-6700) or The Interfaith Hospitality Network of Greater Cincinnati (513-321-6700).
| Service | Location | Date | Time | Stream Link | Directions |
| --- | --- | --- | --- | --- | --- |
Add a Tribute