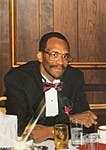 Obituary
Life's Reflection
The early life and pilgrimage of Isiah Graves Jr. began on January 26, 1954 in Cincinnati, Ohio. Born to the union of the late Isiah Graves and his beautiful mother Sallie Mae Graves. Isiah began his journey of life and covered a great distance. He was a graduate of Aiken High School and lived the majority of his life in the College Hill Community and was a member of the Southern Baptist Church Choir.
Isiah was known to be a maverick. Before his illness, he enjoyed spending time with his friends: partying, dancing, and living life to the fullest. He enjoyed traveling and driving. He also loved taking time to himself, but would frequently attend a Reds or Bengals game with his family. He really enjoyed Western Movies, Old Shows, Reds baseball, and Star Trek. He also loved his mother's cooking. He would go to family dinners on holidays, leave early, but typically took a few plates of food home with him.
Isiah dealt with a sickness in his organs for over 30 years, but he had a heart of gold. He enjoyed being a big brother and would give his family the shirt off his back. He frequently talked about his kids and how fortunate he was to have all boys. He named his first son after his brother.
Isiah was a very smart person with a wealth of knowledge. He received an academic scholarship to Wright State University. He also served his country by attending the Air Force Academy as a young man. He spent a good portion of his professional career with Toyota. Isiah loved driving nice cars and always kept them clean. He later worked in Sales and retired from Rumpke. He enjoyed visiting elementary schools and discussing Earth Day and Recycling with kids while working for Rumpke.
Like a comet that lights up the sky with its beauty and brilliance and then falls to the ground after its journey so the earthly life of Isiah came to a sudden end on November 3, 2020.
Isiah leaves to mourn his death, but also celebrate his life; his mother, Sallie; four sons, Ronald, Isiah III (Amber), Matthew, and Simeon; one brother, Ronald; one sister, Vicki; eighteen grandkids, Ciera, Jaevin, Jarron, Desmond, Isiah IV, Elijah, Amir, Giannis, Marcus, Matthew Jr, Aaliyah, Simeon Jr, Jasmine, Jayla, Shianne, Troy, Trey, and Brianna; two nephews, Ricardo Jr and Ryan; one niece, Angela; two great-nieces, Breonna and Aayanna; a host of half-siblings, Andre, Starlyn, Shawn, Donte, and Keith; and a host of cousins, relatives, and other friends.
| Service | Location | Date | Time | Stream Link | Directions |
| --- | --- | --- | --- | --- | --- |
| Visitation | Spring Grove Funeral Homes | November 10, 2020 | 1 pm | | Directions |
| Funeral Service | Spring Grove Funeral Homes | November 10, 2020 | 2 pm | | Directions |
Add a Tribute