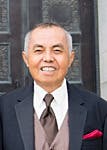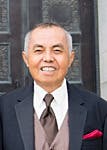 Obituary
Howard Yea-Shean Ho
September 1st, 1952 - January 16th, 2021
Howard Yea-Shean Ho, 68, passed away on Jan 16th, 2021, surrounded by family at his home, in Cincinnati, OH due to a life-long battle with kidney disease, and most recently, complications from a neurodegenerative disease.
Howard was born on Sept 1, 1952 in Taichung, Taiwan as the youngest son of six to parents Tsai Ho and Show-Yher Lin Ho. Howard was hard working and gave everything his all, in spite of the many challenges life threw at him. He graduated from Feng-Chia University, Taiwan with a Bachelors's in Architectural Engineering in 1977. After serving in the Taiwan Army as a designer and construction supervisor, he became the county architect in 1981 and was a committee member of Taichung county's planning commission. During this same time, to supplement his income and continue to hone his craft, he was also an architecture teacher at a technical high school.
In 1985, he received his Master's in Computer Science from the University of Tennessee - Chattanooga. He followed in the footsteps of his eldest brother, immigrating to the US to pursue higher education and the American Dream. Not afraid of hard work, he paid
for his masters' degree by bussing tables with his nephew. After graduating, he accepted an offer from EDS and then accepted a role as a telecommunications specialist at the IRS, where he worked for 20+ years, until he retired at 62. During his career, he raised his family in Troy, MI for 25+ years.
Outside of work, he was a man of faith and family. He would share his faith perspectives with his friends & family, and encouraged studying the common principles of major religions of the world. Additionally, he enjoyed pursuing an active lifestyle playing ping-pong, swimming, and walking with his family.
Howard is survived by his wife Lancy Jie-Mei Lu Ho, his daughter, Kathy Ho, and husband Eric Dayringer, his son Dean Ho and wife Megan Ho, and three grandchildren, Maddie, Lucas, Andrew.
Please join together to commemorate Howard Ho's life via Zoom on Saturday, January 23rd, 2021 at 10:00am. A link to join the funeral service, as well as Zoom ID and passcode, are listed below.
https://us02web.zoom.us/j/88019146682?pwd=UTZGQUYzYzdEcjBwWG93U1g4K1BFdz09#success
Meeting ID: 880 1914 6682
Passcode: Howard
| Service | Location | Date | Time | Stream Link | Directions |
| --- | --- | --- | --- | --- | --- |
Add a Tribute