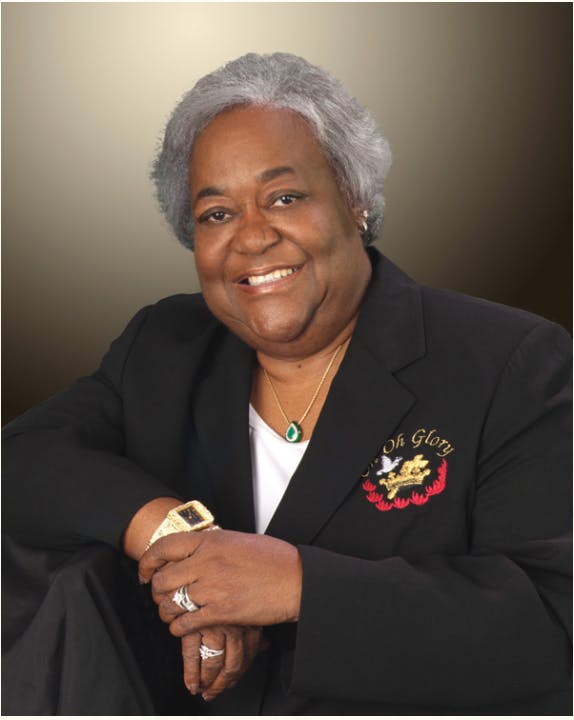 Obituary
Christine McGlothine-Moore was born in Meridian, Mississippi on May 17, 1939. Her parents were the late Aaron McGlothin and the late Helen Neadham of Cincinnati, Ohio. She moved from Mississippi to Cincinnati, Ohio where she attended local schools and completed her high school course work at Robert A. Taft High School. in Cincinnati. Mother Moore later moved to Detroit, Michigan.
During her early childhood years, she and her brothers picked cotton in Mississippi. In later years she became a cook in some of Cincinnati's country clubs and fraternity houses. On December 6, 1965, Mother Moore was fatally shot and died. It was during this incident that God spoke to her, "The LORD is my light and my salvation: whom shall I fear"...(Psalm 27:1) After recuperating from her injuries, she received her "new birth" on February 21, 1967. Mother Moore was called into the ministry after 3-1/2 years of training as an International Evangelist. She was under the leadership of Pastor Ralph Hart of Liberty Temple Church of Detroit, Michigan.
The LORD resurrected her again on January 17, 2005 and placed her on spiritually "higher ground." She has been continuing to serve God and ministering to his people at a high level of the anointing known by only a few. As a result of her ministry, Mother Moore is affectionately known as "Mother Love." Although she has no natural children of her own, she has "birthed" many spiritual children and grandchildren around the world.
Mother Moore was ordained on August 28, 2005 as Mother Pastor Christine McGlothine-Moore in Batesville, Mississippi by Apostle Dr. Florida and Elder Rufus Jackson of Chicago, Illinois. Mother Moore resided in Cincinnati, Ohio until her eternal rest on Sunday, September 13, 2020. She attended Kingdom Empowerment Ministry under the leadership of Pastor Larry Scott in Cincinnati. Mother Moore is the Overseer of End Time Prophetic Deliverance Ministry in Ft. Pierce, Florida, Reaping the Harvest International Ministries in McDonough, Georgia, and More Spoken Word Ministry in Chicago, Illinois. She also serves as an official head Mother in many churches throughout the United States. Mother Moore is also the Founder and CEO of Oh Glory Ministries, "A ministry on the move!" said the Spirit of the LORD. On October 2, 2016, Mother Moore received an Honorary Doctorate in Divinity Degree. On July 25, 2020, Mother Moore received a second Honorary Doctorate in Divinity degree.
Mother Moore dedicated herself to the people of God for over 53 years. Her ministry extended all over the world. She has ministered in 59 different countries including Haiti and three times in Israel. In October of 1983, Mother Moore accompanied Pastor Benny Hinn to Johannesburg, South Africa. Mother Moore was rejected, handicapped, and unlearned. In spite of all of these adversities, Mother Christine McGlothine Moore humbled herself and became a mastermind and a scholar in God and His service.
Evangelist Christine McGlothine-Moore was an amazing woman of God, who was selfless and poured into everyone she encountered. She was a wonderful sister, a doting aunt, a confidant and teacher to many, the Mother of Zion and a spiritual 5-Star General. She is dearly loved and greatly missed.
Evangelist Christine McGlothine-Moore is survived by her siblings, Henry McGlothin, James (Natalie) McGlothin Sr. and Barbara Neadham. Her nieces and nephews, Lora Neadham, Larry Neadham, James (Inga) McGlothin Jr., Arlinda Christine McKinley, Marlene McGlothin, Cameron McGlothin, Earl McGlothin, Mike McGlothin, Versina McGlothin, June (Herbert) Penny, Dereck Stevenson, Wendell Stevenson, Bobby (Denise) Stevenson Jr., Fawn McWilson and a host of cousins and great and great great nieces and nephews. Mother Moore also leaves behind many spiritual children from across the country and around the world.
| Service | Location | Date | Time | Stream Link | Directions |
| --- | --- | --- | --- | --- | --- |
| Burial | Spring Grove Cemetery | 2020-09-19 | | | |
Add a Tribute