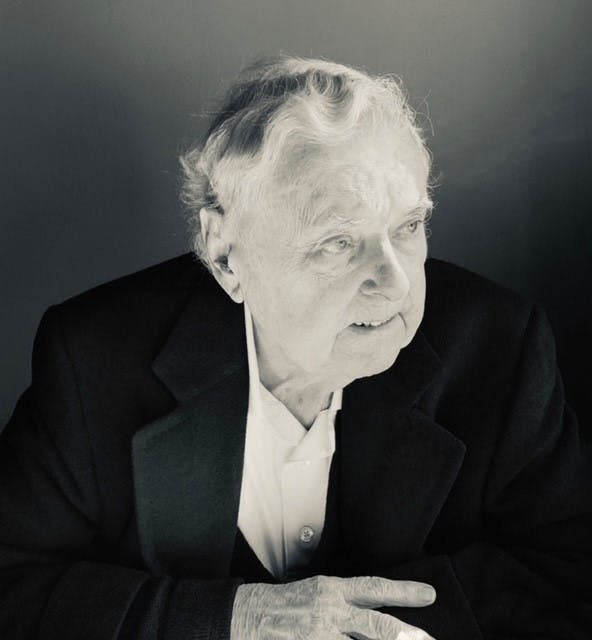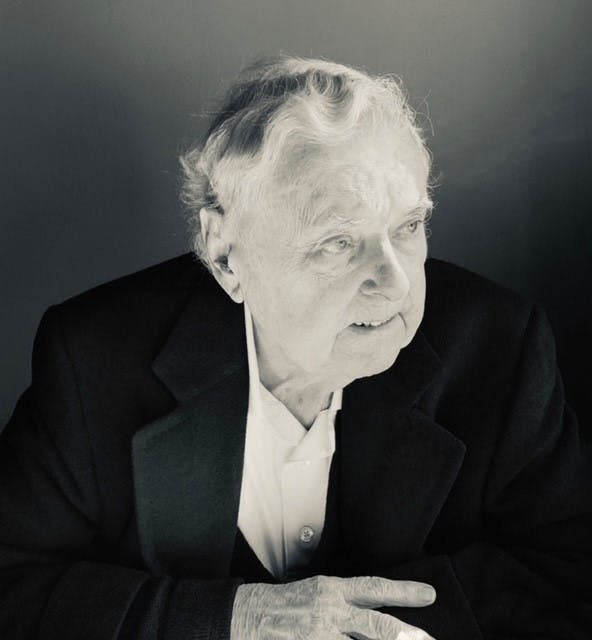 | Service | Location | Date | Time | Directions |
| --- | --- | --- | --- | --- |
| Graveside Service | Gate of Heaven Cemetery | September 14, 2021 | 10:00 a.m. | |
| Visitation | Cincinnati Country Club | September 14, 2021 | 12:00-3:00 p.m. | |
Obituary
I remember coming home from elementary school and asking Mom what we should say when our teachers ask, "What does your father do for a living?" She looked at me with wide eyes and said, "Just say 'self-employed'."
–Molly Poynter Maundrell
Born to William Bruce Poynter and Gertrude Johnson Poynter in Cincinnati, Ohio in 1925, Don Poynter began a creative and entrepreneurial life early. At age 11, he began making and selling remote-controlled toy tanks and working cannons while growing up in Western Hills. In 1937, he became an inaugural (and the youngest) member of Puppeteers of America. Photos show him posing with a gorilla puppet he constructed from his mother's discarded mink coat.
In 1940 he performed on the radio show Father Flanagan's Boys Town, heard over NBC's network and later on shows with Doris Day, Donald Nash (the voice of Donald Duck), Rosemary Clooney, and Andy Williams, among others.
At Western Hills High School (Class of 1943), he lettered in track, ran hurdles and pole vaulted, and gained popularity as a drum major and baton twirler.
Like many of his generation, his college years at the University of Cincinnati were interrupted by military service in the Army. During his service, he performed for the troops as a ventriloquist, magician, and baton twirler.
After completing his service, he returned to UC, graduating in 1949 with a degree in business and serving as class president. While there, he entertained students and alums and garnered national attention with his drum majoring and baton twirling at halftime shows, including twirling on stilts, unicycle, and tight wire.
While still in college, he secured a patent for Play Logs, a building toy he designed, manufactured, and sold via mail order for more than a decade. It was the first of many patents he would earn in his lifetime.
His twirling skills drew the attention of Abe Saperstein, who engaged him to tour internationally for 3 years as a performer and assistant tour director with the Harlem Globetrotters, including shooting 3D film for the team. In 1952, he married fellow UC student Mona Castellini, and part of their honeymoon was spent on tour with the Globetrotters. Mona preceded Don in death in 2007 after 55 years of marriage.
As founder of Poynter Products in 1954, he created and designed bestselling toys and novelty items. His breakout item, Whiskey Flavored Toothpaste, was featured in LIFE magazine and landed him on What's My Line? (where he stumped the panel and won $50).
Some of his most successful products include The Thing, Jayne Mansfield Hot Water Bottle, Rube Goldberg Cigarette Lighter, The Executive Waste Basket Ball, Matchbox Steer-n-Go, and Mighty Tiny World's Smallest Record Player, among many others. Numerous items were featured on The Tonight Show with Johnny Carson, Good Morning America, and Late Night with David Letterman. Mr. Poynter was a featured guest on Tom Snyder's Tomorrow Show, Huntley Brinkley, and Good Morning America.
He also found time to make films and stage shows. He produced, directed, and filmed 13 children television shows, using a new film technique he developed, and he conceived and produced Midnight at Eight, a stage anthology of horror and suspense classics directed by William Spier, with the Los Angeles production starring Basil Rathbone. Designed a national promotion for the Dry-Cleaning Industry. Secured the rights to the Walt Disney film characters, and had them printed on paper for dry cleaning bags. Walt Disney stated "it was the best promotion he had ever seen"
Needing a venue to demonstrate an invention in the 1960's led to a new direction of developing golf courses, Triple Crown Country Club being the latest passion that continued into his 90's.
He is survived by his children and their families: Amy (Paul) Brewer, Donald (Toni) Poynter, Timothy (Theresa) Poynter, and Molly (Patrick) Maundrell. He is the beloved grandfather of 10 and great-grandfather of 11.
He will be missed by all who knew him. "He touched so many people in his life," says his son Tim, "We will probably be hearing stories until we're all gone."
Daughter Molly says, "In a conversation with Pat Green, a colleague of my father's for 47 years, I said, 'What an amazing roller coaster ride' and he replied, 'And we had the best seats."
When asked shortly before he passed what his goal was in life, Don responded:
"To bring joy to people and make them smile."
Graveside service will be held on Tuesday, September 14, 2021, at 10:00 a.m. at the Gate of Heaven Cemetery. Please meet at the front gate of Gate of Heaven at 9:45 a.m. to line up in procession. A celebration of his life will follow at the Cincinnati Country Club, 2348 Grandin Rd, Cincinnati, OH 45208, from 12:00-3:00 p.m. In lieu of flowers, donations can be made to Hospice of Cincinnati Blue Ash, P.O. Box 633597, Cincinnati, OH 45248. Sympathy may be expressed, and additional information may be found at www.springgrove.org.
Add a Tribute