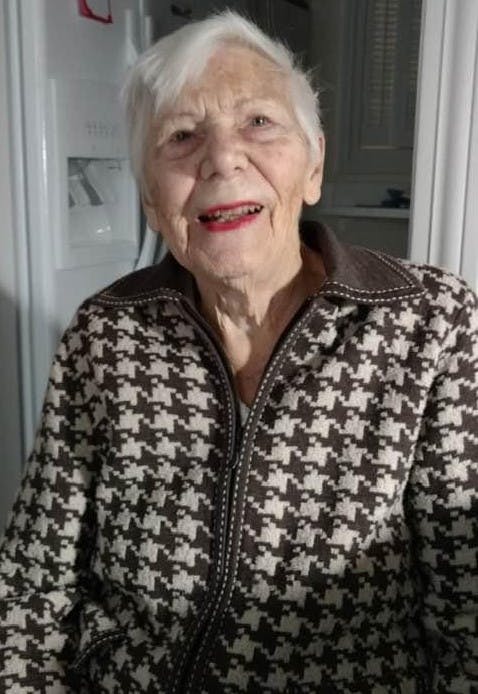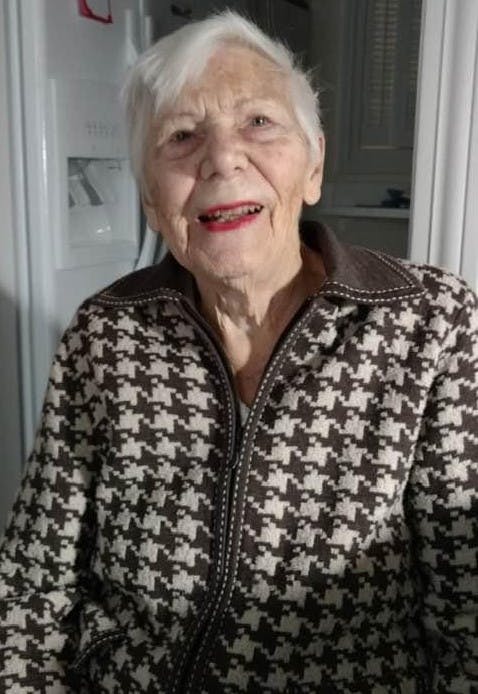 | Service | Location | Date | Time | Directions |
| --- | --- | --- | --- | --- |
Obituary
Danute G. Bieliauskas ("Dr. B") died peacefully at the age of 99 at Evergreen Retirement Community in Cincinnati on Friday September 3, 2021.
"Dr. B" was predeceased by her husband of 67 years, Vytautas J. Bieliauskas. She is survived by her sons Linas (Bonita Johnson; Britt, Andersen, deceased) and Cornelius (Sally Schrand, deceased), her daughters Diana and Aldona, grandchildren Nina and Anton Bieliauskas (Shannon), Mantas and Nida Vidutis (Ryan McGinley-Stempel), Hana, Abe, and Jonas Bieliauskas, and great grandchildren Wesley and Iris Bieliauskas.
Danutė Gražina Bieliauskas (nee Širvydaitė) was born in Kaunas, Lithuania on March 18, 1922 to Pranas and Bronislava (nee Džiugelytė) Širvydas. Danutė had just completed high school and started her medical studies in 1939, when then-free Lithuania was first invaded by the Soviet Union. Over the coming years, the students started hearing whispers that Soviets were sending young students into prisons and into "gulags," and to stay safe, they needed to hide or disappear into a foreign country. After the Nazis also invaded Lithuania and shut down Danutė's university in 1943, Danutė-at the age of 21-fled Lithuania and started down the long road of the displaced person.
Danutė was able to continue her medical studies in Vienna, Austria and Leipzig, Germany. In 1944, while Danutė was in Leipzig, the Soviet Union officially occupied Lithuania and forcibly incorporated it into the Soviet Union. Lithuania would not see freedom for another half century. 22-year-old Danutė had no country to safely return to.
After World War II ended in 1945, Danutė rushed to join her mother and brother, who had also fled Soviet-occupied Lithuania, in Munich. She quickly gained employment at a medical clinic. One day she was asked to help Vytautas J. Bieliauskas, a young Lithuanian professor in the nascent field of psychology, host Lithuanian gatherings with other refugees. They married two years later.
After its defeat in WWII, Germany was anxious to rid itself of all foreigners, especially foreign refugees. Through the International Refugee Organization and the U.S. Displaced Persons Act of 1948, Danutė, Vytautas, and their newborn son boarded an army ship and set out for Boston in June of 1949.
The young family needed local sponsorship to gain entry into America. Thankfully, Vytautas's cousin, Aldona Grigaitienė (Aldona Craig), sponsored them to come live with her in Wilkes-Barre, Pennsylvania, a coal-mining area where many Lithuanians had settled generations earlier. Vytautas was able to secure an academic position at Kings College and the young refugee family got its start. "To be an American citizen is the greatest honor of my life," then-_-year-old Vytautas told the Wilkes-Barre Gazette.
In 1950, the family moved to Richmond, Virginia. Unlike Pennsylvania, Virginia was willing to recognize Danutė's foreign medical credentials, and Vytautas was hired by the Richmond Professional Institute (later Virginia Commonwealth University). In the following years, Danutė worked as a doctor at Sheltering Arms Hospital; she also gave birth to three more children. From 1956 to 1958, the family moved outside of Richmond to rural Quinton, Virginia, where Danutė was the only doctor serving a 30-mile radius. After she left, there would not be a medical doctor in Quinton for another 20 years.
In 1958, Vytautas Bieliauskas was offered a psychology teaching position at Xavier University in Cincinnati, Ohio. Soon thereafter, he assumed chairmanship of the department and would teach at Xavier for the rest of his career. Vytautas and Danutė Bieliauskas bought a large house in Groesbeck with enough land to build an office next door where Danutė could practice Family Medicine. Danutė served as a family practitioner for her community for the next 35 years.
Outside of work, Danutė and Vytautas enjoyed the performing arts in Cincinnati and were active in the local Lithuanian-American community.
They were also avid world travelers, dedicated to the idea of liberty and freedom for all. Danutė and Vytautas would not get a chance to return and visit a free Lithuania until 1991. Since then, Lithuania has now celebrated over 30 years of independence, and is a member of the EU and NATO.
Danutė and Vytautas were blessed with 4 children, 7 grandchildren, and 2 great-grandchildren.
The safety of the Bieliauskas family was only made possible because America opened its arms to refugees. America chose to do so despite fearmongering of the day that attempted to paint "foreigners" as human threats. Danutė's family believes that her life is a testament to the way immigrants enrich our nation, and they hope she rests in peace after living a long, fulfilling, and impactful life.
Add a Tribute