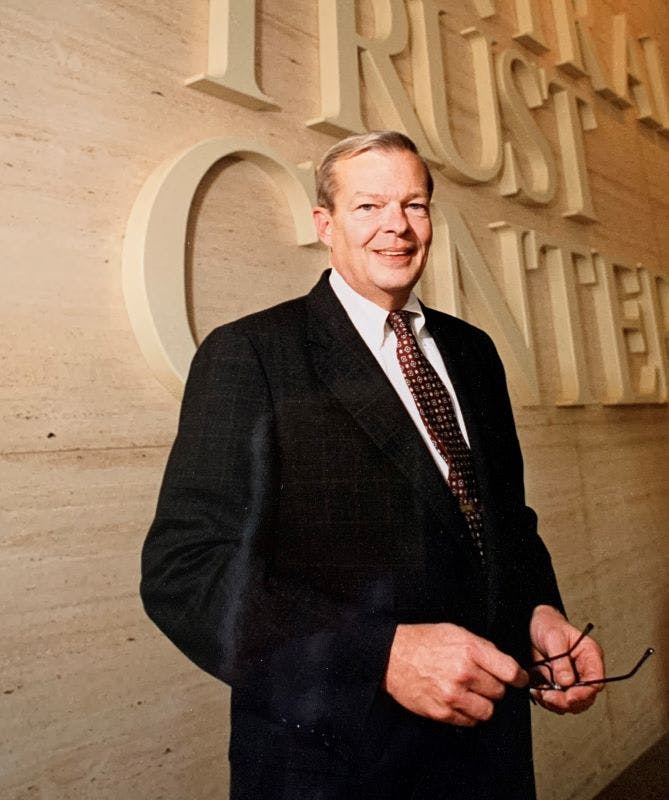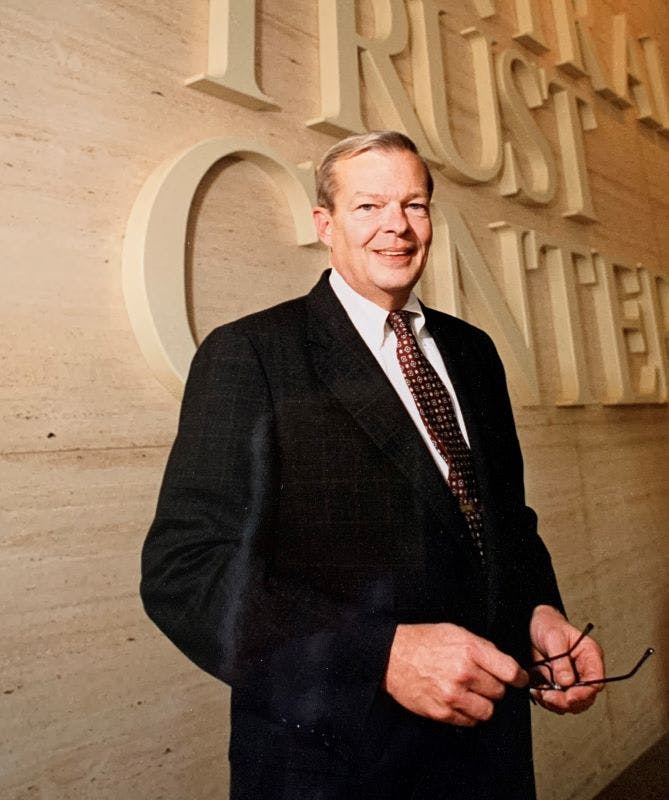 Obituary
Cortland Meader, who passed away on Sunday, April 11, 2021, was born on December 7, 1935 and raised in New York City. He attended Collegiate School, the oldest independent school in the United States (1628). Growing up in New York was magical. During those years, Cort developed a love of art, classical music, architecture, theater, and books. At the 7th Regiment Armory on Park Avenue, Cort learned the art of shooting. It wasn't long before he began to shoot competitively, and over time, earned top honors in all aspects of the sport.
After graduating from Collegiate, Cort attended Trinity College in Hartford, Connecticut. Upon graduation, he began his career as an Investment Banker at US Trust Co. on Wall Street, where he became one of its youngest assistant vice presidents. The critical decade of the 1960s brought major changes to the culture in America and around the world. As the decade dawned, Cort and his wife had three young children Jennifer, Karen, and Cort Jr., prompting the decision to move out of the city into the suburbs of Connecticut.
As the family grew, so did their needs. After years of daily commutes to Wall Street, Cort recognized this, and at the same time, he understood his own need for change. He always wanted to work with his hands, and in the city, this was impossible. So Cort left his job to follow his dream; he traded in his Brooks Brothers suits for overalls by opening his own business close to his Connecticut home. That's where the National Enquirer found him and featured him as the cover story in one of its editions. The embellished headline on the front page read "Investment Banker Quits Wall Street to open Stripping Business".
The story showed Cort wearing an apron to protect him from the chemicals used to 'strip' furniture at his shop known as The Wood Den, still in operation today. Several years later, Wachovia Bank in Winston Salem approached him with an offer he couldn't refuse: the opportunity to become the head of its large Trust Department. He and his family moved to North Carolina for this next chapter of his life.
Over a decade later, Cort was lured to Cincinnati to become head of the Trust Department at Central Trust Bank (now PNC Bank). He spent the rest of his professional career there retiring in the late 1990s. In 1984 he met and married his wife, Annette, and became stepfather to her son, Peter Schulteis. Together, they explored their many common passions and interests such as extensive world travel, collecting fine art, and renovating houses. Reading was also a common passion of theirs. They understood each other and made a good team.
Cort was a man with many talents. He was able to repair or create almost anything. He was a master carpenter who knew a great deal about antiques. He renovated seven homes over the years, built furniture, and was able to do just about anything when it came to woodworking. Cort also loved golf, and once made a hole in one at Beachview Golf Club on Sanibel Island. He was a collector of fine art and other unique collectibles. He maintained a large library of books on many different subjects. It was rare to see him sitting without a book in his hand. He was also an avid fan of Crossword puzzles and loved reading the daily Comics. Cort was a master marksman and enjoyed shooting competitively. There were very few firearms that Cort didn't know about or understand. Even though he was a collector and had won many awards, it just wasn't in his blood to hunt animals.
Traveling brought him a great deal of pleasure. He and Annette traveled to many places, including Russia, Ireland, North Africa, and all of Europe. On one of their Viking riverboat cruises through France, they visited the beaches of Normandy, a lifelong dream of his. He enjoyed visiting exotic places, learning new things, and making friends from all walks of life. Whether Cort was at "The Porch" on Sanibel Island or at Frisch's Mainliner lunch counter he formed close friendships with a wide variety of interesting people.
Cort had carried on his love of the arts during his whole life in Cincinnati and had supported the Arts community since his arrival. He was on the Board of Directors for the Cincinnati Historical Society, the Clovernook Center for the Blind, the Museum Center, United Home Care, and was President of the Cincinnati Chamber Orchestra.
His favorite companions over the last couple of decades were his dogs, Maggie and Max. He enjoyed taking daily walks in the park with them. Rain, shine, frigid, or stifling hot, you could find him there. Cort was affectionately known to his grandchildren as Pop Pop or Grandpa, and they loved and respected him deeply. Cort Meader will be sorely missed by his wife Annette, his children, Jennifer (Doug), Karen (Sam), Cortland, Jr. (Elizabeth) and Peter (Diane), his ten grandchildren, his nieces, and nephews, his dog Max, and all who had the privilege of knowing him.
| Service | Location | Date | Time | Stream Link | Directions |
| --- | --- | --- | --- | --- | --- |
| Memorial Visitation | Spring Grove Cemetery, Norman Chapel, 4521 Spring Grove Avenue, Cincinnati, OH 45232 | April 24, 2021 | 10:00 am - 11:00 am | | Directions |
| Memorial Service | Spring Grove Cemetery, Norman Chapel, 4521 Spring Grove Avenue, Cincinnati, OH 45232 | April 24, 2021 | 11:00 am - 11:45 am | | Directions |
| Inurnment | Spring Grove Cemetery, 4521 Spring Grove Avenue, Cincinnati, OH 45232 | April 24, 2021 | 11:45 am | | Directions |
Add a Tribute