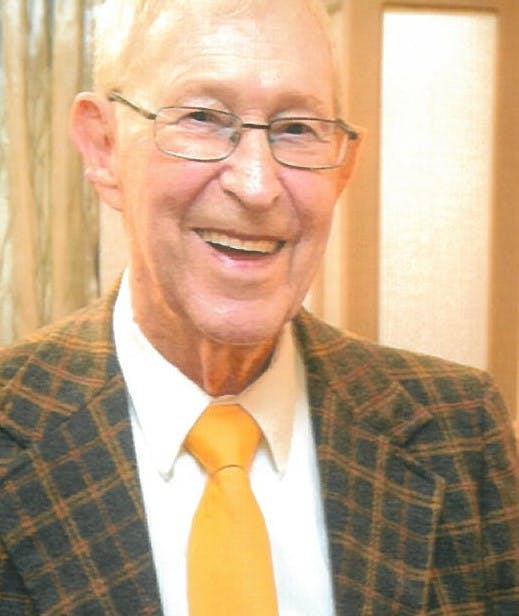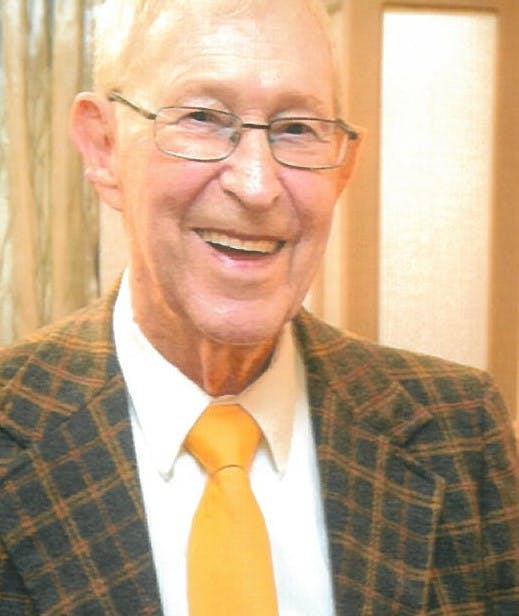 | Service | Location | Date | Time | Directions |
| --- | --- | --- | --- | --- |
Obituary
Conrad L. "Lewis" Burton was born in Flora, Indiana, January 13, 1932, to Von and Thelma (Perry) Burton. He died March 3, 2023, in Hospice of Cincinnati after a brave struggle with different cancers for many years. He was 91 years old.
In 1937, his family moved to Aurora, Indiana. Connie began his schooling in Aurora. In 1947, the family moved back to Flora so that Connie's father, Von, could take over the Burton heating and plumbing business established by Von's father, Charles.
Connie took Flora High School by storm. He was President of the Class of 1950, was an invaluable member of the basketball team and starred in classic plays.
After high school, he attended Indiana University, joined Kappa Sigma fraternity, ROTC, Little 500. On June 8, 1952, he married his soulmate Ardith Ann Mullin and soon became a wonderful and loving father to their daughter Cheryl born January 3, 1953, his family filled his years until his graduation in 1954.
Connie's ROTC training at IU eventually led to his commission as an United States Air Force officer. After additional OTC training in Texas, he was assigned to Burtonwood Airforce Base, outside of Liverpool, Untied Kingdom in 1955. This was the beginning of his motor pool and household goods specialization career in the USAF.
His next assignment was Clovis, New Mexico for about a year and a half, and then George AFB outside of Los Angeles, California for another year and a half. In 1960, new orders to Tachibana AFB outside Tokyo, Japan were written. For the next four years, he enjoyed living and learning Japanese culture which he thought was incredible. The family also helped to renovate an abandoned chapel as a theater to be able to perform plays, something the whole family enjoyed.
Connie returned to the USA in 1964 and also to IU in Bloomington, Indiana to obtain an MBA; he then became a government employee at the Pentagon for four years. While at the Pentagon one of his most interesting and notable successes was his contributions to getting the C5 and C-5A military aircraft operational as cargo haulers for the military.
In 1970, Connie was detailed to Vietnam to obtain the most current material concerning the usefulness of the C-5 and C-5A in battle situations. He returned home to Niles, Michigan in February 1971. He then went off on a new assignment in Stuttgart, Germany where he allocated work to USAFE, the US Army in Europe, the US Navy and Marines stationed throughout Europe. By 1975, it was time to return to the USA-this time to Hampton and Newport News, Virginia. This would be his final assignment, after this posting, Connie retired.
The family put into storage all the household goods and packed clothes for a year and set off for Southwest Michigan for a "forever" home. Glyndwr (Glen dower) was found outside of Decatur, Michigan; a twenty-acre farm with asparagus fields, fruit trees and everything on a wish list, including a greenhouse.
The family lived there until 2012, when his wife, Ann, died. The two of them discovered several new hobbies and interests including operating a roadside stand where they sold fruit, vegetables and flowers grown on the property.
Connie and Ann became extremely interested in genealogy tracing both their families. They also reviewed and researched the local graveyards which resulted in several books published about the local Michigan graveyards and genealogies. Another interest was researching and publishing the records of the local Quaker churches. The two of them also published two family newsletters with family information discovered by the many readers. They founded the Van Buren Genealogical Society in Decatur, Michigan, and were also members of the Indiana and Ohio Genealogical Societies. They maintained material in two "antique" shops. Two books of Mullin and Burton family genealogies were also published.
On June 25, 2012, Ann died in Kalamazoo, Michigan. They had been married for 60 years and 2 weeks. Conrad decided to downsize and move to Cincinnati, Ohio. An auction was held in early 2013 to sell the land, truck, and household goods of 60 years.
In 2013, Conrad and Rosebud (black lab dog) were on their way to Twin Towers. He lived in patio home 5027. He made many, many friends at Twin Towers through his position as President of the Resident Council. He took up oil painting and returned to performing with the Play group. Conrad enjoyed the annual bus trips to Florida, Gatlinburg, and Canada. He was always ready to travel-especially if he did not have to drive or plan the trip, as he had many times with his family, known as "Burton Hectic Tours".
Conrad would always try to make the situation better and easier for his fellow residents. For many years he and Rosebud would put the newspaper closer to the residents' door and pull the recycle containers up to the residents' garages to help. He was always available to give rides to residents where ever they needed to go.
Conrad was never one to sit down at a gathering, he was continually "working the room." He has and will continue to be missed and cherished.
He was one of the few "Great Guys" of the world.
Thank you to all the employees of Twin Towers Health Pavilion and Hospice of Cincinnati-Twin Towers for their medical care as well as being so good to him during his stay. You all are most appreciated.
The services are, currently, undetermined but in the planning stages. There will be a memorial service at Twin Towers soon. Later, Conrad will travel to Flora, Indiana to be buried beside his wife in Maple Lawn Cemetery.
Memorials in Conrad's name can be made to a local animal shelter or a charity of your choice. www.springgrove.org
Add a Tribute