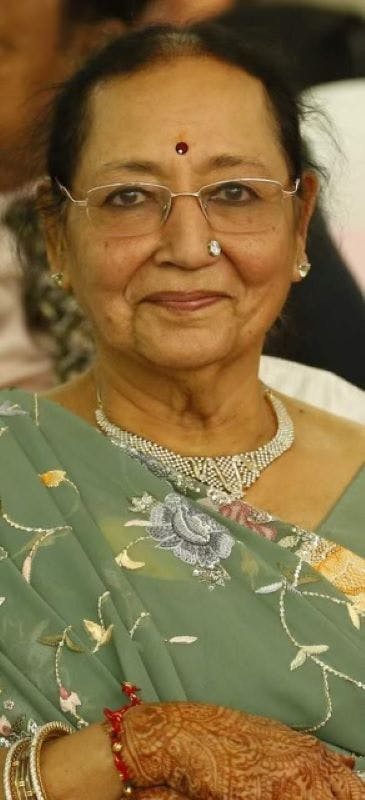 | Service | Location | Date | Time | Directions |
| --- | --- | --- | --- | --- |
| Funeral Service | Spring Grove Funeral Homes, 4389 Spring Grove Avenue, Cincinnati, Ohio 45223 | May 20, 2023 | 1:00 pm - 2:00 pm | Directions |
Obituary
In Loving Memory of Chanchal Jain
March 1st, 1939 - May 18, 2023
Today, we gather to honor and celebrate the remarkable life of our beloved grandmother, mother, and friend, Chanchal Jain. She was a beacon of love, warmth, and kindness, whose influence touched the lives of everyone fortunate enough to know her. Chanchal passed away peacefully, surrounded by all her loved ones, on May 18, 2023, at 5:30 A.M.
Chanchal was born on a spring day, and her spirit radiated the beauty and vitality of that season throughout her life. She possessed an unwavering devotion to her family, and her nurturing nature made her a mother not only to her children but to everyone who crossed her path. She possessed a unique ability to make each person feel loved, cherished, and accepted, regardless of their background or circumstances. Her arms were always open, ready to embrace, comfort, and heal.
Chanchal's love knew no boundaries, and her home was a sanctuary of love and joy. She was known to effortlessly create delicious meals, infusing them with the secret ingredient of her affection, making sure that every stomach and heart was filled. Her laughter echoed through the hallways, and her stories illuminated the room, captivating listeners with her wisdom and grace.
But it wasn't just within the walls of her home where Chanchal's love was felt. Her compassionate heart extended far beyond her immediate family. She volunteered tirelessly in her community, reaching out to those in need, offering a listening ear, a helping hand, or a shoulder to lean on. Her selflessness and empathy were beacons of hope, and her impact on others will continue to ripple through countless lives for generations to come.
Chanchal possessed a profound appreciation for the simple joys of life. Whether it was a blooming flower, a serene sunset, or the laughter of children, she found beauty in the ordinary and taught us to do the same. She cherished every moment spent with her loved ones, creating memories that will forever be etched in our hearts.
As we bid farewell to our beloved Chanchal, we find solace in knowing that she lived a life rich in love and compassion. Her legacy will continue to inspire us to live our lives with open hearts, to cherish the bonds of family, and to extend a helping hand to those in need.
Chanchal Jain will forever be remembered as a beloved mother to everyone, and a beacon of love. May her soul rest in eternal peace, knowing that her love will continue to guide us through the days ahead.
"You may be gone from our sight, but you will never be gone from our hearts."
With love and gratitude,
Jain Family
Add a Tribute
Stay up to date
Sign up to get the latest information on current events at Spring Grove and to be notified of new products and services.