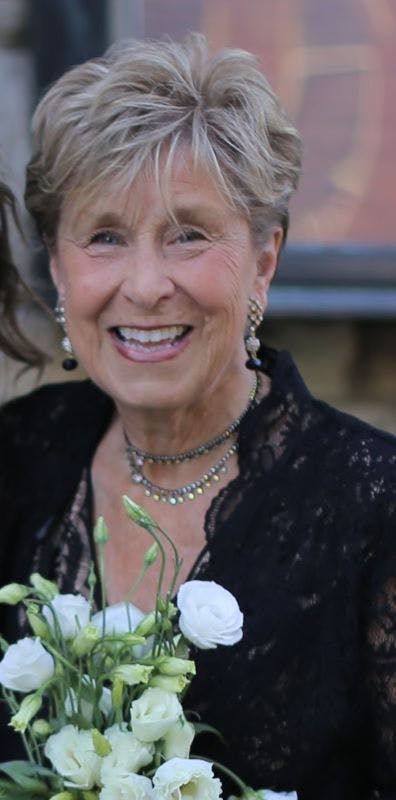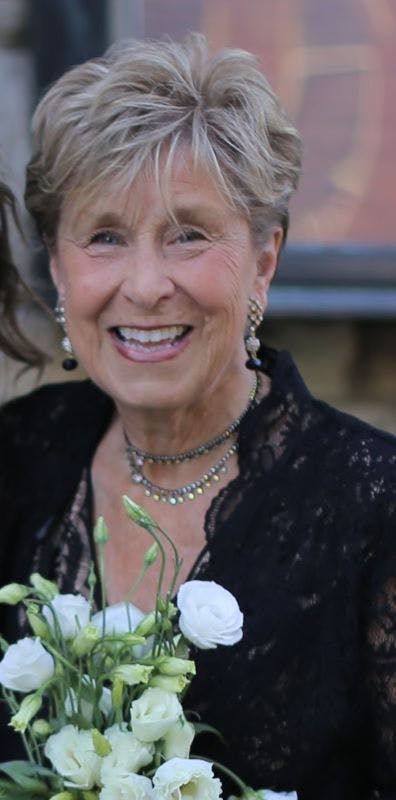 | Service | Location | Date | Time | Directions |
| --- | --- | --- | --- | --- |
| Visitation | Knox Presbyterian Church, 3400 Michigan Avenue, Cincinnati, Ohio 45208 | March 20, 2023 | 12:00 pm - 2:00 pm | Directions |
| Funeral Service | Knox Presbyterian Church, 3400 Michigan Avenue, Cincinnati, Ohio 45208 | March 20, 2023 | 2:00 pm | Directions |
Obituary
Carole Ritchie's spirit was enchanting. Her peace, generosity, and love of life guided all who knew her. Carole had a level of optimism and hope that was honest and heartfelt, and it spilled over into all she did. The lives she touched have been changed for the better.
Carole married Frank Ritchie, her Withrow High School sweetheart. Together, they continued their education at Miami University and married in 1963. Carole liked to say she and Frank were a "Miami Merger". Their love for each other was boundless - some might say they got the fairy tale! Frank was the love of her life, and together they created a family grounded in love. Carole and Frank are endlessly devoted to their children, Shelley Ritchie (Cincinnati), Rusty Ritchie (Raleigh), and Scott (Denver). Her family looked to her for guidance, wisdom, and hope. You see, she was that bright light they all needed when all else seemed impossible. To Carole, anything was possible. Her positivity was contagious as was her smile! She was able to cut through the chaos and help us focus on what was important. Family. She nurtured her relationships with each of her children, and later in life they were lucky enough to not only call her Mom, but their friend. She unconditionally, unselfishly loved her children and supported them every day- standing by them during the high times as well as the difficult times - never wavering. Always telling them everything would be okay in the end. She was grateful to know her children found caring and loving partners to share their lives. To her, Paul Jacobs (Shelley), Kathy Ritchie (Rusty), and Paige Ritchie (Scott) were blessings, and they loved her in kind.
Carole's' heart blossomed when she became a grandmother. Her love spilled out to each of them, Helen, Jennings, Cory, Eliza, Virginia, and William. She lovingly cultivated bonds with her grandchildren, and her spirit is woven through each of their lives. The family traditions she shared with them are imprinted in their hearts. She loved sharing her love of the arts with them, and some of her most special days were spent painting with them at their beach house in North Carolina. She saw something unique in each grandchild and was never happier than when she was sharing what they loved most with them whether it was playing the guitar, playing baseball, playing basketball, gymnastics, or painting, this was who they were, and she treasured each personality.
A loving daughter, Carole was devoted to her parents, the late Ruby (Muff) and Russell Wilkinson. Her love for them was unending, and she inspired her family to treasure every minute with the ones they love.
Carole loved glazed doughnuts, Reds Baseball, thunderstorms, white linen shirts, Martha's Vineyard, Frisch's Bigboys, naps on snowy days, daisies, loud cracking fires, The Phantom of the Opera, and her granddogs.
Beyond her family, the lives she touched are countless. At Miami University she studied Art Education and eventually received her Master's Degree in Art Education and was Certified to teach Intellectually Gifted students. Carole was an inspirational art teacher who wove her love of art through every state she lived in - Ohio, Georgia, South Carolina , and North Carolina. She taught for over 50 years, and in Cincinnati taught at Sycamore, Loveland, St. Bernard/Elmwood Place, and the Art Academy. In addition, she participated in numerous after school and summer programs, such as Norwood and Knox Presbyterian Sharehome. Carole focused on the individual creativity of each of her students. Carole sought to enrich her students' lives with the beauty of art by exposing them to art history as well as all mediums. To see Carole in the classroom was magical as she found a way to cut through the noise and inspire each child - one at a time -to express themselves through art. She simply was bigger than life. Reflecting on her career, it is easy to see why so many of her students even all these years later, call her their favorite and most influential teacher, ever. To Carole, this was the most rewarding accolade she could hope for. A legacy. Many of her past students boast successful careers owning art galleries, being designers, painters and graphic designers.
Carole gained recognition for many school art projects she created with her students such as painting school bus with artist Jim Borgman at Sycamore Junior High, painting fire hydrants in Loveland, and painting the pig in front of the Montgomery Inn. She was featured in USA Today when her class made backpacks for the children affected by 9/11. Carole not only taught her students art - to her that was the simple part. More importantly she helped instill the importance of giving back and helping people in need. Her intention was always to help mold each child - to help them become a better person. Her Sycamore Junior High School class created a book of gratitude for the 911 responders which she delivered to NYC when she and Frank went and served lunches to the firefighters shortly after 9/11. Carole also initiated a sandwich program at Sycamore in which her students made sandwiches each month for the soup kitchen in downtown Cincinnati. When she left Sycamore, she continued this generous program at Loveland Middle School.
Carole loved life. As a friend stated, "When she walked into the room, it changed. She lit it up with her smile." She left her friends and family with a lifetime of love and her hand print on their hearts. Carole's hope for all she has left behind would be that their sadness will forever be overcome by the love she wrapped them in and the heartfelt memories they have shared together. By being selfless, unconditional, wise, grateful, and supportive she has inspired everyone to live their life as she did hers. Shelley, her daughter, recently found a note she had written on a scrap of paper. It read, "Life is fragile, and it can change in a moment of time. So, try to be grateful for each day, live in the present moment, and be thankful for every blessing."
The service will be on Monday, March 20 at Knox Presbyterian Church. Visitation 12:00pm-2:00pm. Service 2:00pm. Donations can be made in Carole's name to Knox Presbyterian Church in care of Sharehome ISN, a program at Knox which provides food and shelter for the homeless. www.springgrove.org
Additional Links
Add a Tribute