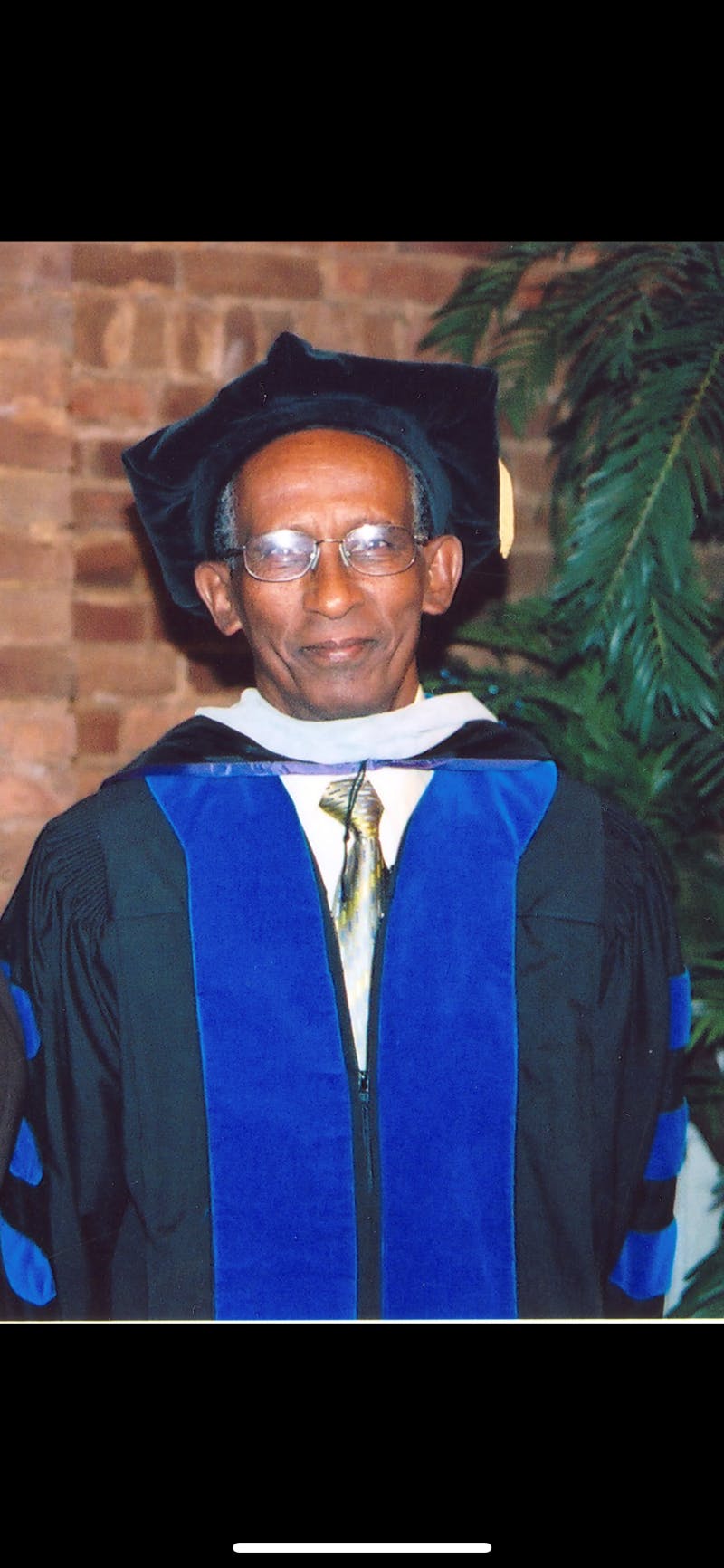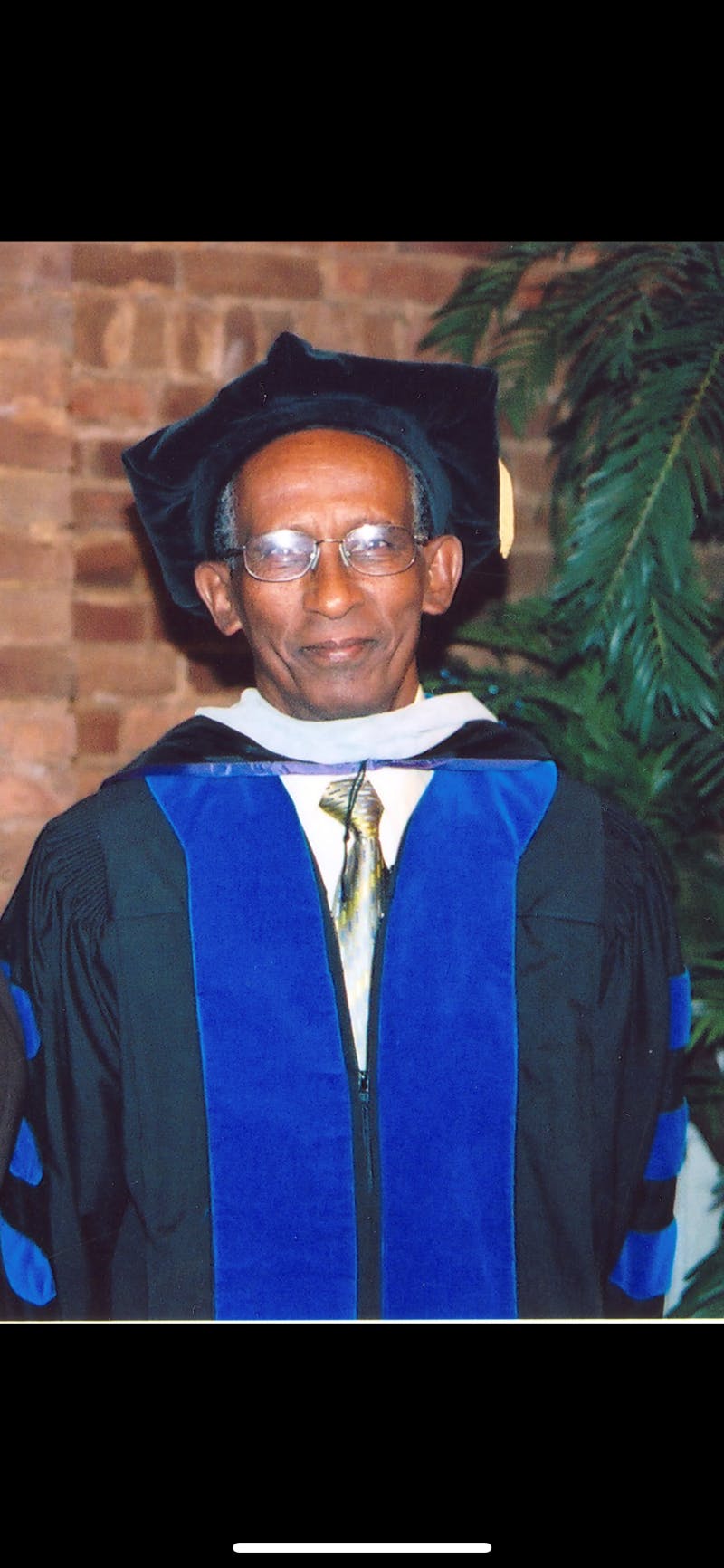 Obituary
The Reverend Doctor Bairu Ogbazion, 79, died at 12:12pm on April 16, 2021, at Jewish Hospital Kenwood in Cincinnati, Ohio. The cause of death was septic meningitis. Bairu had contracted COVID-19 while in the hospital, but ultimately succumbed to this other life-threatening condition.
Bairu Ogbazion was born in Azen, Eritrea, a village about eighteen miles north of Asmara. He never knew his exact birthday, but when he started school, his parents told him that he was born right around the time Haile Selassie returned to Ethiopia from exile, May 5, 1941, and this is the date he chose as his birthday.
Bairu was the third child of Ogbazion Ghebretu and Timketu Zemhiret. His other siblings included his older brother, Russom, older sister, Dehab, younger brothers, Emanuel and Ghebremichael, and younger sister, Tseghana.
Growing up, Bairu gravitated towards education and ministry. His early childhood years were spent at the Coptic Greek Orthodox Church fairgrounds playing with other children. He desperately wanted to be an altar boy so the priests could teach him how to read. A young life full of misery and a lack of desirable options began early on when his parents withdrew him from the school so he could start helping them on the farm. Farm life wasn't for Bairu, so a few months later he ran away, but not before he helped himself to some eggs that he could sell to purchase his books and to buy some potatoes to eat.
Bairu had no choice but to be entrepreneurial as a child to continue to support himself and his endeavors. He bought and sold eggs, peanuts and oranges, and even raised pigeons and sold them to pay for his education.
Bairu suffered a near-fatal, tragic medical condition at an early age that would change the trajectory of his young life. He developed a rather large boil on his right leg, which he believed to be from a mosquito bite. Bairu kept tampering with it, and eventually cut into it with a rusty blade, an unfortunate action that rendered him lame.
In the village market of Keren, Bairu, now in excruciating pain but still hustling nonetheless, met up with a few friends from his village, each of whom took note of his dire medical condition. They immediately offered to help him, and proceeded to purchase all his oranges, then transported him to a new clinic that had just opened by a group calling themselves Faith Mission.
A missionary who was also a nurse looked at Bairu's leg, swiftly diagnosed him with tetanus (also known as lockjaw), and promptly treated him with a tetanus shot that saved his life. The missionary went on to tell Bairu that the clinic had saved his leg, but now wanted to introduce him to someone who could save his life. The silver lining to the cloud of Bairu's illness began to make itself clear.
Bairu enrolled at Faith Mission School in Dekemhare, first as a student and later as a teacher. This compassionate institution shaped the young man's character and molded him into who he would become. It is where Bairu met most of his friends and the love of his life, his wife of nearly fifty years, Meharit Desta.
A few years after high school graduation, Bairu and Meharit married in July of 1971. They welcomed their first son, Fesum Berhan, in 1973, then Tsega Berhan in 1974 and Haile Yesus in 1979.
Bairu moved to Addis Ababa and started working as a foreman at the Wonji Sugar Factory in Ethiopia. He was gainfully employed there for several years before the country became mired in "The Red Terror," a terrible conflict that saw the death of over 500,000 Ethiopian citizens at the hands of the Derg. Bairu had cheated death as a youngster, but now the government was looking to kill educated Christians like himself. He knew that he had to get out.
On weekends, Bairu, with the help of his wife Meharit, applied to hundreds of schools in the U.S. to build a better life for their family. After years of effort and prayer, a small Bible School in Hobe Sound, Florida accepted his application. In 1981, Bairu left his family in Addis Ababa, and at the age of forty started as a college student at Hobe Sound Bible College. After much prayer and fasting, his family was permitted to come to America, where they joined him in December of 1982.
Bairu went on to graduate from college with a Bachelor's degree in Divinity in 1986. He uprooted his family again, this time to Cincinnati, Ohio, where he attended Cincinnati Christian University, earning a Master's degree in 1988 and eventually a Ph.D. from Asbury Theological Seminary in 2006. Bairu managed to engage in each of these educational pursuits and endeavors, all while working forty hours a week and raising his family.
Bairu is survived by his children: Fesum Berhan Bairu, Tsega Berhan Bairu and Lt. Colonel Haile Yesus Bairu, as well as seven grandchildren; Sammy Menasie, Hiyab and Hidiat Menasie, Leah Disselkamp, Sofia Haile Bairu, Brook Haile Bairu and Caleb Ogbazion.
Funeral services will be held at the Vineyard Cincinnati Church Chapel in Springdale, Ohio on Saturday, May 1, 2021 at 10am. He will be laid to rest at the Spring Grove Cemetery following the service. Reception will follow at the St. Lila Macedonia Church in Cincinnati.
| Service | Location | Date | Time | Stream Link | Directions |
| --- | --- | --- | --- | --- | --- |
| Visitation | Vineyard Church - 11340 Century Circle E - Springdale, OH 45246 | May 1, 2021 | 10:00 am - 11:00 am | | Directions |
| Funeral Service | Vineyard Church - 11340 Century Circle E - Springdale, OH 45246 | May 1, 2021 | 11:00 am | | Directions |
| Burial | Spring Grove Cemetery | May 1, 2021 | | | Directions |
Add a Tribute