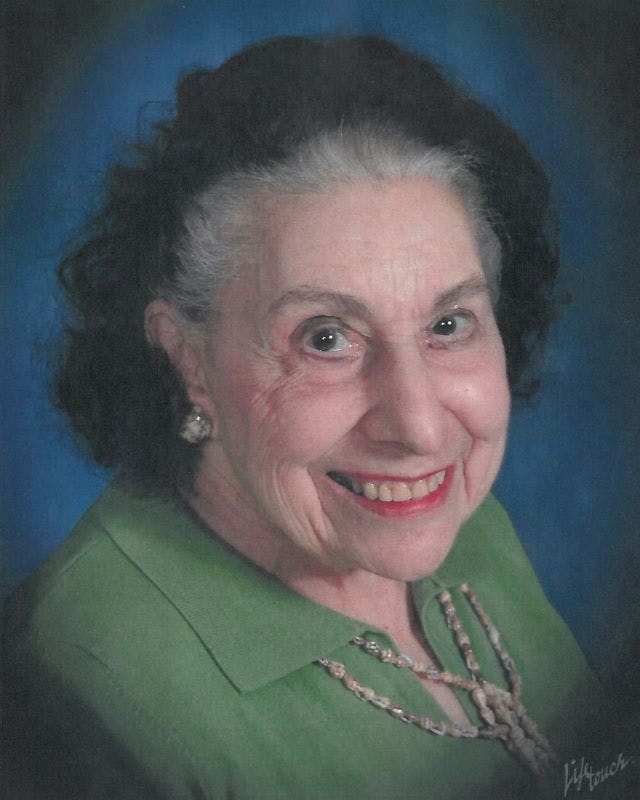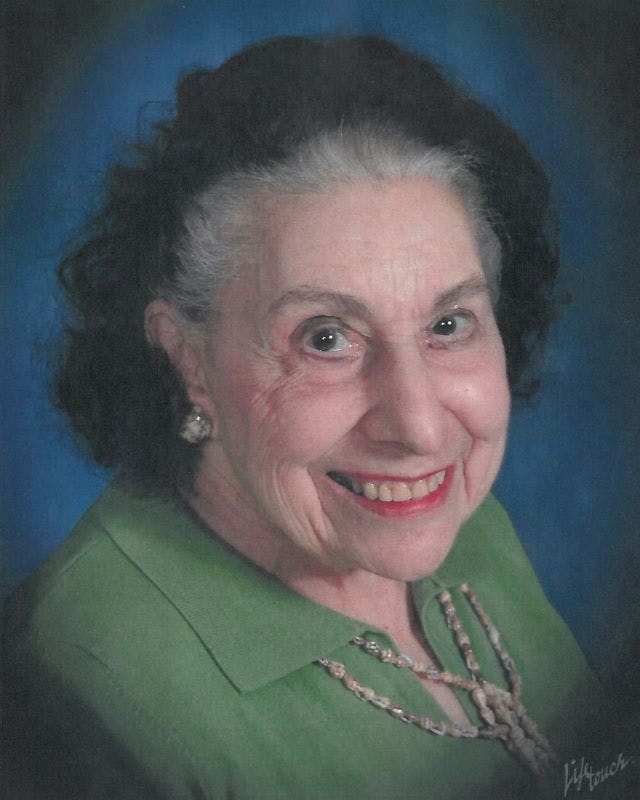 | Service | Location | Date | Time | Directions |
| --- | --- | --- | --- | --- |
| Visitation | Saint Teresa of Avila Church, 1175 Overlook Avenue, Cincinnati, Ohio 45238 | May 16, 2022 | 9:00 am - 10:30 am | Directions |
| Mass Of Christian Burial | Saint Teresa of Avila Church, 1175 Overlook Avenue, Cincinnati, Ohio 45238 | May 16, 2022 | 10:30 am 11:30 am | Directions |
Obituary
Anella Mary "Dolly" Del Grossa Roser
At 97, Dolly Roser died May 11 the way she had lived: with a smile on her lips and a generous spirit. Up to the end, she exuded the joy, faith and love that defined her life. At Bayley, the nursing home where she received great care these last seven months-before age caught up with her-the staff called her "smiling Dolly."
Dolly was a quintessential member of the Greatest Generation. She lived modestly and frugally, but always gave back. As a teenager, she attended USO dances to cheer homesick soldiers. As a wife and mother of five, she rarely bought anything new for herself but always made sure that the family had plenty to eat and that a favorite mission had a dollar from her piggybank. When a chair needed upholstering, she did it herself. When the girls needed school uniforms, she made them.
At 16, Dolly began working at an all-woman accounting firm, a rarity in the 1940s. She put herself through night school to earn an accounting degree. She especially enjoyed keeping the books for the Cincinnati Symphony Orchestra and Bill's Battery.
Dolly was born in Cincinnati on July 28, 1924. She was fiercely independent and practical but always kind and gentle. She was proud of her big Italian family. Her late parents, Mary and Carmen Del Grossa, and her two late sisters, Jean Venuto and Butty Steinker, lived in a downtown Cincinnati building where other relatives had apartments. "I had a very happy childhood and was never lonely," she once wrote. "There were aunts, uncles and cousins galore when we all got together."
In 1953, she married the love of her life, Clarence Roser, a generous, humble and jovial man she met at a dance. They danced together the next 43 years, until Clarence died in 1997. Dolly found solace in her faith and in volunteering at St. Teresa of Avila Catholic Church. She facilitated a prayer group, led Bible study, distributed communion and helped parishioners plan funerals. She planned her own funeral in meticulous detail, right down to how many minutes before Mass the programs should be delivered.
Besides faith and family, Dolly loved big band music, jitterbugging with her sisters, granddaughter Tori's dog Gorgeous George, her late cat Spooky, singing at the top of her lungs, Columbo and thrift shopping.
In addition to numerous loved ones and friends, she was predeceased by her beautiful grandson, Ethan Roser. She is survived by her children, Carmen (Julie), Mary Ann (Ted Thomas), Chris (Teresa), Rose Walker (Rod) and Mark (Pat); 10 grandchildren and 14 great-grandchildren. Visitation is at 9 a.m. May 16 at St. Teresa Church, 1175 Overlook Ave. (45238). Mass follows at 10:30, with a reception afterward. Immediate family will attend her burial at St. Joseph's Cemetery.
The family thanks Dolly's wonderful caregivers, including the staff at Bayley, Karina Kolcova and Ginny Cole. Memorial gifts may be made to St. Teresa of Avila Catholic Church, 1175 Overlook Ave., Cincinnati, OH 45238; CUP (Catholics United for the Poor), PO Box 14548, Cincinnati, OH 45250 and Uttermost Missions c/o Rev. Mark Roser, PO Box 499024, Cincinnati, OH 45249. www.springgrove.org
Add a Tribute