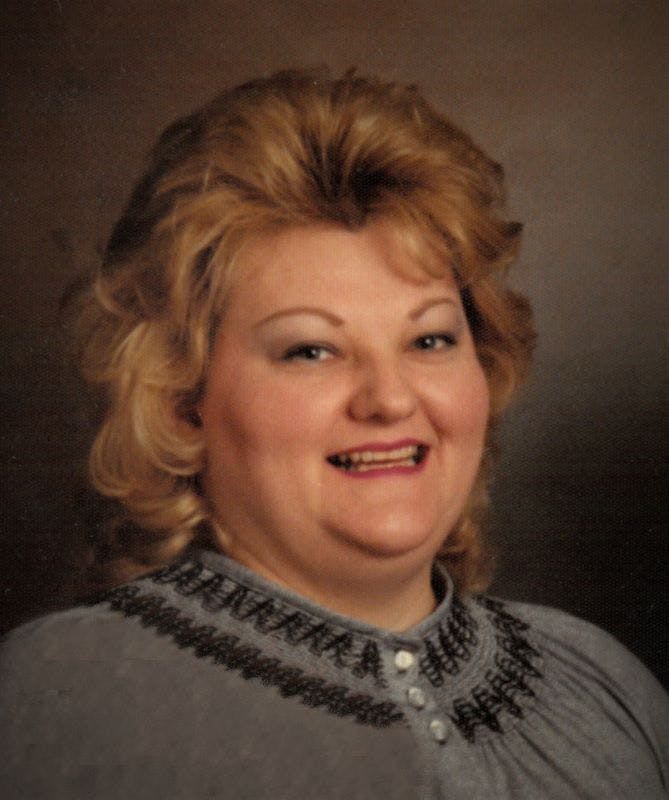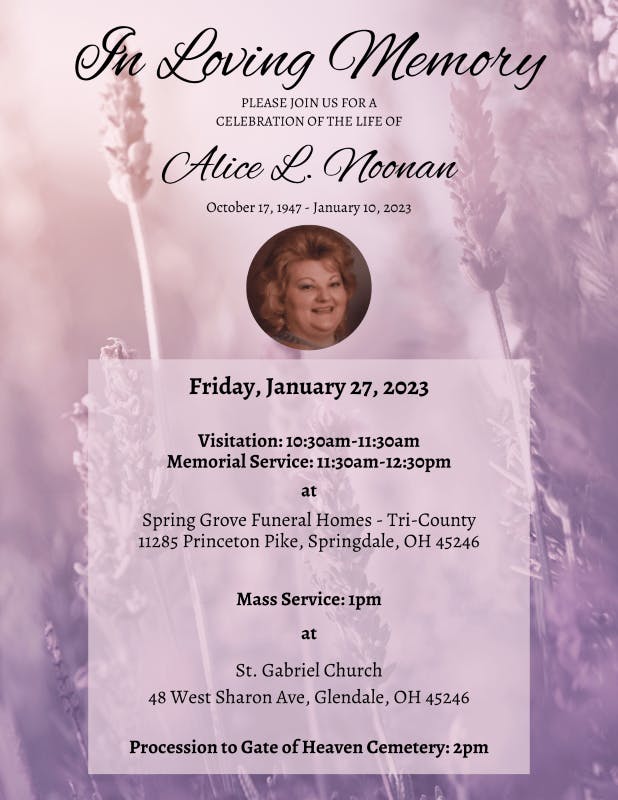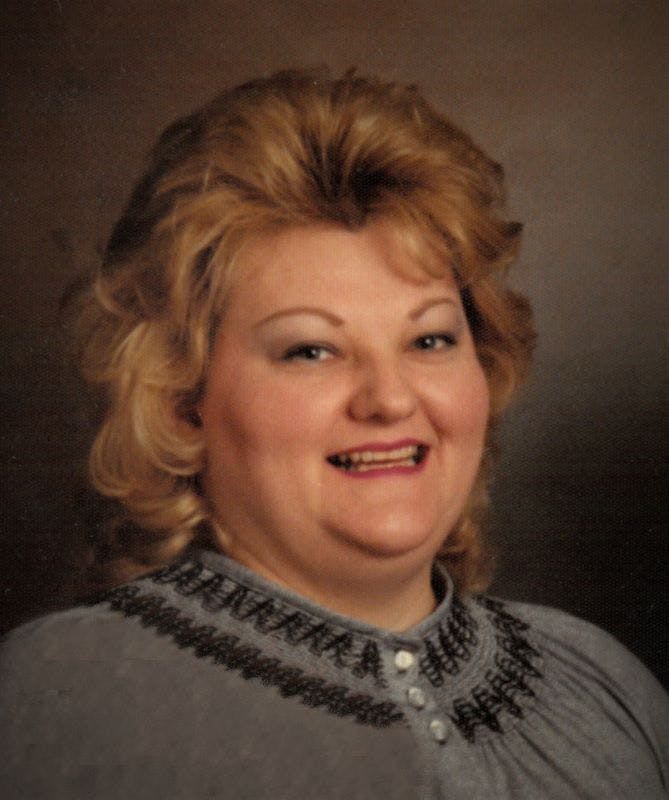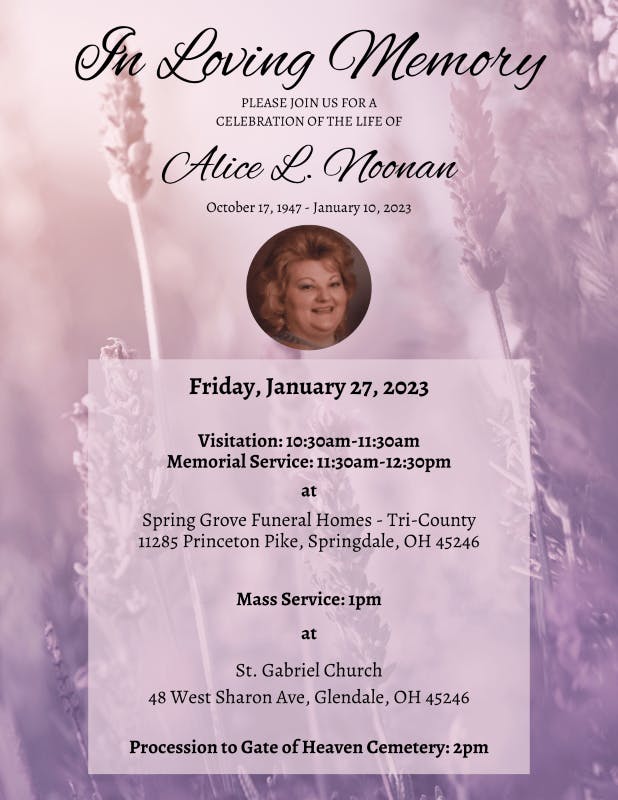 | Service | Location | Date | Time | Directions |
| --- | --- | --- | --- | --- |
| Memorial Visitation | Spring Grove Funeral Homes - Tri County, 11285 Princeton Pike, Cincinnati, Ohio 45246 | January 27, 2023 | 10:30 am | Directions |
| Memorial Service | Spring Grove Funeral Homes - Tri County, 11285 Princeton Pike, Cincinnati, Ohio 45246 | January 27, 2023 | 11:30 am | Directions |
| Mass Of Christian Burial | St. Gabriel Church, 48 W Sharon Avenue, Glendale, Ohio 45246 | January 27, 2023 | 1:00 pm | Directions |
| Burial | Gate of Heaven Catholic Cemetery, 11000 Montgomery Road, Cincinnati, Ohio 45249 | January 27, 2023 | 2:30 pm | Directions |
Obituary
Alice Louise Noonan, age 75, passed away on January 10, 2023 at her lifelong home in Springdale, Ohio. Memorial visitation will be held on Friday, January 27, 2023 from 10:30am until the time of the Memorial Service at 11:30am at Spring Grove Funeral Home Tri-County, 11285 Princeton Pike, Cincinnati, Ohio 45246. Funeral mass will follow at 1pm at St. Gabriel Church, 48 West Sharon Ave, Glendale, Ohio 45246. Interment will follow at Gate of Heaven Catholic Cemetery.
Alice was born on October 17, 1947 in Cincinnati, OH to Margaret and Ralph Noonan. She grew up in Springdale, Ohio and graduated from Princeton High School in 1965. She attended the University of Cincinnati where she studied Information Processing Systems and Business Management, and went on to earn a General Banking Diploma from the American Institute of Banking. She began her career in 1974 as the assistant manager of the record department at Shillito's Department Store, where she was known for being an expert on the best new music. She also owned her own business as an independent beauty consultant for Fashion 220 Cosmetics. From the 1980s through the 2010s, she had a successful career in the field of information processing systems, serving a number of roles, including computer operator for the US Shoe Corporation, Production Control Specialist and Computer Operations Manager for US Bank Corporation, and the Command Center Supervisor for Fifth Third Securities/Vantiv.
Alice was a giving and civic-minded person, having participated in a number of service organizations, including Sing-Out Cincinnati, the United States Junior Chamber (Jaycees) for which she held high administrative offices, and volunteered as an officer on the St. Gabriel Church parish council. She supported numerous charities and civic groups, including the Ruth Lyons Children's Fund. Due to the ill health of her sister Kathleen, Alice accepted guardianship of, and raised her sister's son, Michael as her own. She accepted the role of caretaker for her father Ralph before he passed away in 1975. She continued as caretaker for her mother Margaret and sister Kathleen until they passed in 1993 and 1995, respectively.
Alice was preceded in death by her parents Margaret and Ralph Noonan, and sisters Kathleen Goecke and Angela Noonan. She is survived by nephews Dr. N. Michael Goecke and Jeffery Paul Tilley; and sisters Maryann Tilley and Judith C. Hall.
The family would like to express their appreciation to the physical therapy team at Wellspring Health Care Center. Despite many believing that Alice would never walk again after a tragic fall in December 2021, over the course of 9 months in the nursing facility, the physical therapy team's care, and Alice's determination, allowed her to walk again and fulfill her wish of returning to her home in Springdale by her 75th birthday.
If desired, friends may make memorial contributions to the Ruth Lyons Children's Fund in her name (P.O. Box 59, Cincinnati, OH 45201). Condolences may be sent to the family at www.springgrove.org
Add a Tribute
Stay up to date
Sign up to get the latest information on current events at Spring Grove and to be notified of new products and services.