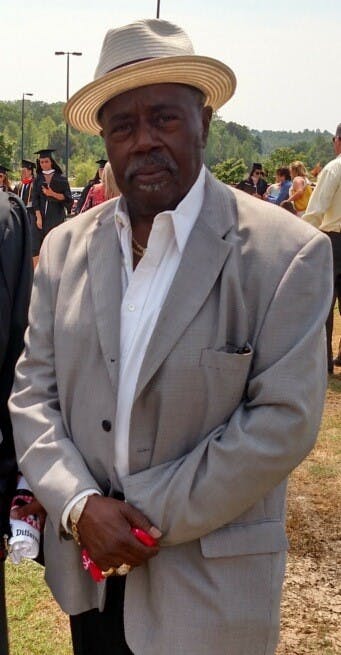 Obituary
Alex Paul Ford, Jr., beloved husband of the late Barbara Jean Ford was born August 17, 1939 in Cincinnati, Ohio. Alex was the third eldest child of the late Alex Paul Ford, Sr. and Semmie Lee Ford. He was also preceded in death by his brother Elvin Aaron Ford, great grandson Kentez and brother-in-law Frank Miller.
Alex was affectionately called "Ford" by just about everyone who knew him. He loved and was very passionate about the "Ford" name. Ford was raised on Findlay St. in Cincinnati's West End neighborhood. As a kid, he enjoyed being on the "Stunt" team at the Neighborhood House. He also enjoyed being outdoors, hunting, and raising dogs. He had a heart of gold and would help just about anyone in need.
Ford loved his entire family, his Mother, however, was at the top of the list! While helping his father "AP" with the "Ford Cab" business, he learned the importance of having the "By any means necessary" mentality to make sure that his immediate family were comfortable. After his father died when Ford was just 17 years old, and missing his father deeply, he decided that helping his family survive was more important at the time than school.
In 1958, at the age of 19, Ford left Cincinnati and relocated to New York City, where he remained until 1975, living in Manhattan, Harlem and on Long Island. He often shared with others his memories in New York where he met several times and attended the funeral of Elsworth "Bumpy" Johnson. Ford would be sure to return to Cincinnati a couple of times a year to visit his mother and other family members. During one of his visits back to Cincinnati in 1963, he met his soulmate Barbara Jean Stallings. Ford married Barbara Jean on June 19, 1965. Out of this union three sons were born; Alex Paul Ford, III, Barron Vincent Ford, and Shannon Rico Ford. Later in his life (1989) another son RaKeem Johnson was born.
Wanting a better life for his family, in the spring of 1975, Ford relocated his family back to Cincinnati, where he and Barbara Jean bought a home in Colerain Township. It was in this home that they raised Alex III, Barron "Vito" and Shannon "Rico". Ford was admired and respected by many in and outside of the neighborhood. He gave nicknames to all he knew; including the kids of the neighborhood. He always had an entrepreneurial spirit. Hustling and find a way to make a dollar. In 1988, Ford bought a small store "deli" in St. Bernard, Ohio from Reverend Damon Lynch, Jr. He named it "Ford's Market."
He leaves to mourn and cherish his memory and spirit: his sister Barbara (Herman) Scales, brother; James Tyrone (Carolyn) Ford, Sr., sisters-in-law; Carolyn Stallings, and Brenda Miller, sons Alex P. (Willa) Ford, III, Barron V. Ford, Shannon R. (Tasha) Ford, and RaKeem Johnson. Grandchildren: Kenneth Murphy, Jessica Rene (Tommy) Davis, Alex Paul Ford, IV, Brandon Ford, Jada Ford and RaKeem Johnson, Jr. Great grandchildren: Keaunte', Isiah, Matthew, Elijah and Emani, along with a host of nieces, nephews cousins and countless friends.
| Service | Location | Date | Time | Stream Link | Directions |
| --- | --- | --- | --- | --- | --- |
Add a Tribute