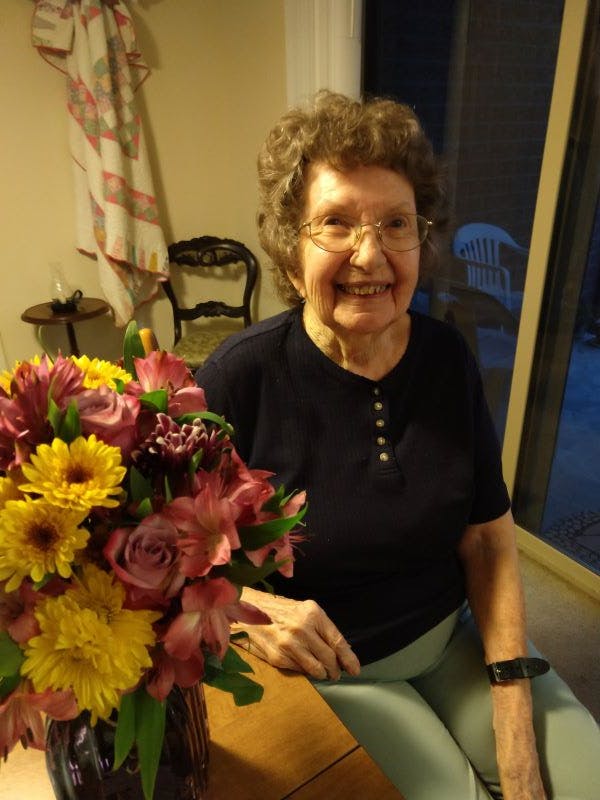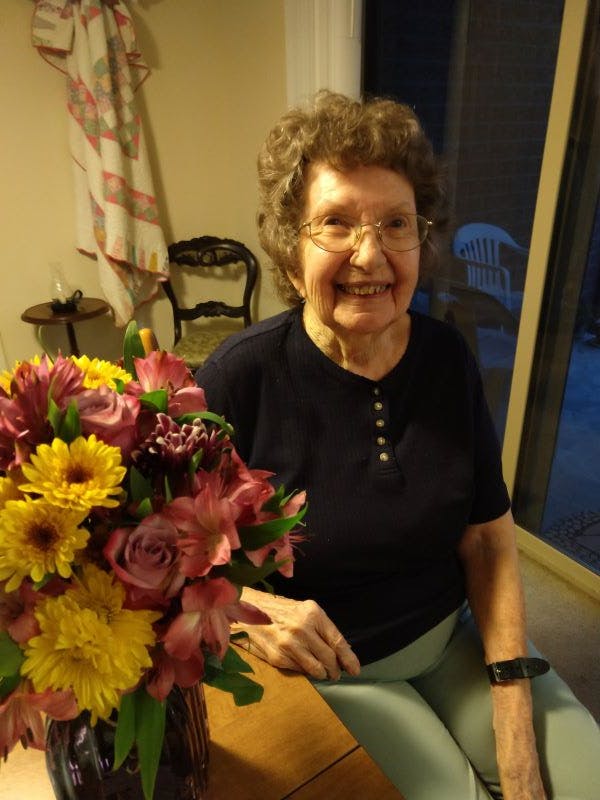 | Service | Location | Date | Time | Directions |
| --- | --- | --- | --- | --- |
| Visitation | Pilgrim United Church of Christ 4418 Bridgetown Road Cincinnati, Ohio 45211 | September 20, 2021 | 10:00 AM - 11:00 AM | Directions |
| Funeral Service | Pilgrim United Church of Christ 4418 Bridgetown Road Cincinnati, Ohio 45211 | September 20, 2021 | 11:00 AM - 12:00 PM | Directions |
| Burial | Bridgetown Cemetery 4337 Harrison Avenue Cincinnati, OH 45211 | September 20, 2021 | 12:00pm | Directions |
Obituary
Alberta V. Donahue (nee Brockhoff), passed away peacefully on Saturday, September 4, 2021, two weeks shy of her 99th birthday. She was the beloved wife of the late Richard A. Donahue, loving mother of Nancy (John) Cusick, Joanne (Ken) Claudy and Rick Donahue, the cherished grandmother of John (Tricia) Cusick, Jr. Jennifer Claudy, Heather (Josh) Farmer and Janelle (Eric) Laing and adored great grandmother of Jared, Mariah, Chloe and Jay Cusick, and Olivia and Benjamin Laing. She was the daughter of the late Albert and Bertha (Baechle) Brockhoff and sister of the late Robert Brockhoff.
Family and friends are invited to the visitation on Monday, September 20, at 10:00 am at Pilgrim United Church of Christ, 4418 Bridgetown Rd. followed by a memorial service at 11 am. Burial to follow in Bridgetown Cemetery. Because of mom's life-long love of reading, if desired, memorials may be made to: Library Foundation, Attention: Staci D, 800 Vine Street, Cincinnati, OH 45202, online at foundation.cincinnatilibrary.org or to Hospice of Cincinnati, c/o Bethesda Foundation, Inc. P.O. Box 633597, Cincinnati, OH 45263-3597.
The Story of our Mom....
Alberta Virginia Brockhoff Donahue- daughter of the late Albert and Bertha Baechle Brockhoff was born in Cincinnati, OH on September 18, 1922 and passed away on September 4, 2021, 2 weeks shy of her 99th birthday. She attended Dent Avenue School and graduated from Taylor High School. She was a life-long member of Pilgrim UCC and volunteered in the church office in the late 50's and early 60's.
She was the widow of Richard A'Hearn Donahue and mother of Nancy, Joanne and Rick; mother-in-law of John and Ken, grandma of John Jr., Jennifer, Heather and Janelle and Great-grandma or GG to Jared, Mariah, Chloe, Jay, Olivia, and Benjamin. She was the sister of the late Robert Brockhoff.
Mom attended a bookkeeping school and worked at Graybar Electric before her marriage. After we were grown, she was a bookkeeper at Dina Terrace and later at Sherwin-Williams Paint Store.
Mom and Dad met at a friend's wedding and their first date was New Years Eve, 1945. They were married in the rectory of Our Lady of the Visitation on September 10, 1947.
Growing up on the family farm on Bridgetown Road, mom helped with the vegetable garden. Andy Williams and his mom used to come and buy vegetables when he was a boy. When Mom, Dad, Joanne, and Ken went to Branson, they went to Andy's show and were invited backstage after the show to personally meet and talk with him.
Every August, we would get dozens of ears of corn, and freeze it so we'd have fresh corn all year long. She canned several types of vegetables and her homemade ketchup (recipe handed down through the family) was the best. Mom also loved her flower gardens and planted many different varieties of annuals and perennials. Zinnias and Gerbera daisies were some of her favorites.
When we were young, money was tight and when we had something new to eat on the dinner table, we joked that "mom must have had a coupon" to buy it! We were a typical family being raised in the 50's and 60's; three meals a day with supper consisting of all the food groups and sometimes dessert. She was a stay-at-home mom when we were young and only worked outside the home when we were old enough to fend for ourselves.
She loved to sew and read. She made lots of doll clothes and clothing for Nancy and Joanne; we rarely had a store-bought dress. Because mom was deaf in one ear and needed a hearing aid in the other for most of her life, she missed out on many conversations, but she became good at reading lips. She spent hours writing letters to her many, many pen pals from all over the world. She sent hundreds of greeting cards for every occasion to her friends, relatives and shut-ins.
She was thrilled when the Green Township Library opened almost next door in 1990. She read hundreds, maybe over a thousand books over the years-some favorite authors included Janet Evanovich, Sue Grafton, James Patterson, and John Grisham. Mom also was a quilter and made quilts for each of her great grandchildren, in addition to several full-sized quilts.
After she and her brother, Bob, sold the family farm to a developer who built condominiums; Mom and Dad moved into one in 2003. She hated leaving the home she and Dad built, but enjoyed decorating her new condo. She said at the time that she was finally moving south...200 yards, but moving south! She also loved having an automatic dishwasher for the first time in her life. Dad loved it as much as she did, since he was the human dishwasher up until that time!
Once they both retired, they bought a motor home and traveled all over the country, mostly to warmer weather in the south for 6 weeks or so in the winter. The grandkids loved camping with them on short trips to near-by state parks.
Mom loved hummingbirds and couldn't wait for them to arrive in the spring. She always had nectar in her feeder to keep the birds coming and chose a hummingbird carving on her gravestone. To explain to her youngest great granddaughter, Olivia why she wouldn't see GG anymore, she was told GG had gone to live with Jesus. Last week when Olivia saw a hummingbird and was told it was GG's favorite bird, she asked if Jesus loved hummingbirds too.
Mom loved to gamble and enjoyed many trips (some overnight) to local casinos with Joanne. She always made her $20 last by pulling the arm and waiting for the wheels to stop, then analyzing why she didn't win. She was thrilled when she broke even, calling it a "win". Before leaving for the casino, Dad always told us to let him know if he needed to send the Brinks truck to bring home our winnings. Regretfully, we never needed the truck!
Once Dad passed away 5 years ago, she remained in the condo on her own, able to fix her own breakfast and lunch. Nancy and Joanne stocked her freezer with homemade TV dinners that she microwaved for dinner. Rick did her grocery shopping and took carry out to her one night and Nancy and Joanne provided dinner two other nights of the week.
In her last two weeks with us, she had two strokes, taking her words and paralyzing her right side. But Dad came for her as she slept and as Olivia was told, she went to live with Jesus in peace.
We couldn't have asked for a better mom and thank God that we had her for so many years.
Add a Tribute